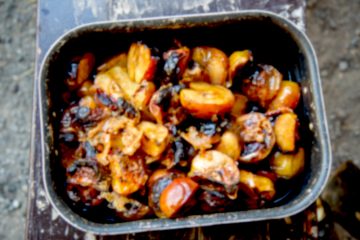 Ingredients
3 cups of peeled tart apples cut in half (Jonathan, Empire, Braeburn, McIntosh work well )
2 cups carrots, peeled, cut into 3/4 inch thick rounds
1 medium onion, cut into wedges
1 lb. small redskin potatoes cut into quarters
2 large yams, peeled and cut into 3/4 inch cubes
2 cups parsnips, peeled and cut into 3/4 inch chunks
2 teaspoons extra virgin olive oil
for the vinaigrette
3 tablespoons white Balsamic vinegar
1 teaspoon chopped fresh thyme
3 tablespoons extra virgin olive oil
1/2 teaspoon chopped fresh parsley
Directions
Preheat oven to 425 degrees. Combine apples, carrots, onion, redskin potatoes, yams and parsnips in bowl. Drizzle with olive oil; season with salt and pepper and toss to coat. Spread veggies evenly on baking sheet. Bake 20-25 minutes until vegetables are tender and beginning to caramelize. Remove from oven.
While vegetables are roasting, make your vinaigrette.
Serve on a platter and drizzle with vinaigrette. Season with salt and pepper.