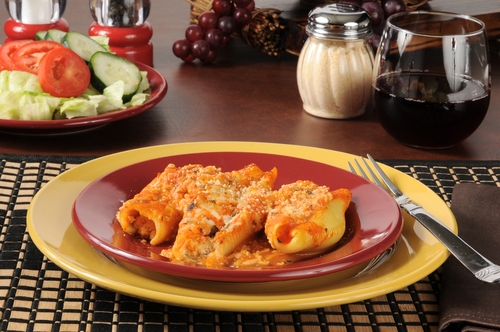 Zowie this dish is a dish! Just love, love this food and wine recipe. Rich flavors in a compact little shell. Yum! Using your favorite store-bought marinara sauce cuts down on prep time.

Size:

6 servings



Ingredients:
2 tbsp unsalted butter
2 tbsp extra-virgin olive oil
2 lbs fennel bulbs, thinly sliced
1 medium sweet onion, thinly sliced
2 medium heads of radicchio (10 oz total), chopped
12 oz jumbo shells
2 cups fresh ricotta cheese
6 oz Italian Fontina cheese, shredded (1 1/2 cups)
1/4 cup chopped parsley
Salt and freshly ground pepper
2 large eggs, beaten
3 cups of your favorite jarred marinara sauce (or homemade)
1/2 cup heavy cream



Directions:




Preheat the oven to 375F. In a large, deep skillet, melt the butter in the oil. Add the fennel and onion and cook over moderate heat, stirring occasionally, until lightly browned, about 15 minutes; add water as needed to keep the vegetables from scorching. Add the radicchio and cook until very soft, about 10 minutes, adding water as needed. Scrape the vegetables into a bowl and let cool.

Meanwhile, in a large pot of salted boiling water, cook the pasta until al dente. Drain and cool under running water. Pat the shells dry.

Fold the ricotta, 1 cup of the Fontina and the parsley into the vegetables and season with salt and pepper. Stir in the eggs.

In another bowl, mix the marinara sauce with the heavy cream. Pour 1 1/2 cups into a
9 x13″ baking dish. Stuff each shell with a slightly rounded tablespoon of the filling and nestle the shells in the sauce as close together as possible. Drizzle 1 cup of the remaining sauce on top and sprinkle with the remaining 1/2 cup of Fontina.

Bake the shells for about 40 minutes, until golden. Let rest for 15 minutes. Warm the remaining sauce and serve on the side.