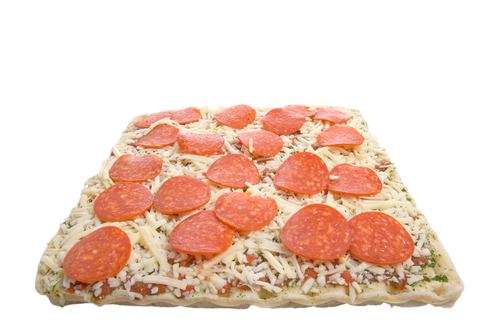 Size:

6 servings



Ingredients:
1 pound prepared whole-wheat pizza dough, (see Shopping Tip), thawed if frozen
1 cup canned unseasoned pumpkin puree
1/2 cup no-salt-added tomato sauce
1/2 teaspoon garlic powder
1 cup shredded part-skim mozzarella cheese
1/2 cup grated Parmesan cheese
2 ounces sliced turkey pepperoni (1/2 cup)



Directions:



Place oven rack in the lowest position; preheat to 450°F. Coat a large baking sheet with cooking spray.
Roll out dough on a lightly floured surface to the size of the baking sheet. Transfer to the baking sheet. Bake until puffed and lightly crisped on the bottom, 8 to 10 minutes.
Whisk pumpkin puree, tomato sauce and garlic powder in a small bowl until combined.
Spread sauce evenly over the baked crust. Top with mozzarella, Parmesan and pepperoni. Bake until the crust is crispy on the edges and the cheeses have melted, about 12 minutes.
Note: mix together leftover sauce and puree and freeze for another time.