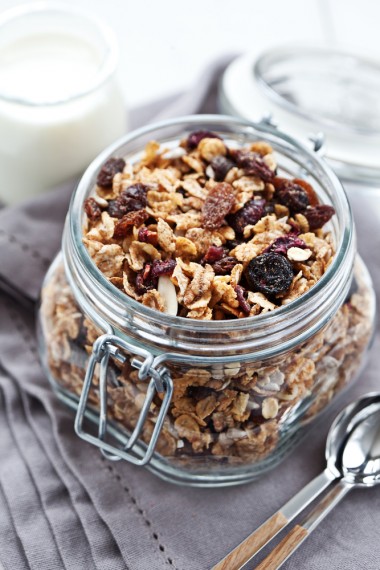 by Ina Garten

Normally I'm the smoothie queen for breakfasts, but sometime I need something a little heartier and this is my go-to granola. It can be eaten, solo, with milk (skim, coconut, almond, rice soy etc) or mixed with plain or vanilla yogurt or cottage cheese. Or, put some in a resealable bag and keep in your purse or bag for a healthy snack when you're on the run.

Size:

10 cups



Ingredients:
4 Cups Rolled Oats
2 Cups Shredded Coconut
2 Cups sliced almonds (or other nuts and/or seeds)
1 1/2 Cups chopped dried fruit ( cherries, cranberries, raisins, apricots, dates, figs etc)
1/2 Cup vegetable oil
1/3 Cup honey or agave
2 tsp cinnamon



Directions:




Heat the oven to 350 degrees F

Mix first 4 ingredients in large bowl. Mix the oil and honey in a smaller bowl or large measuring cup. Pour this over the dry ingredients, add the cinnamon and mix until everything is coated. Spread mixture out evenly on foil-lined baking sheet. Bake 25-30 minutes or until browned, stirring occasionally. Let granola cool stirring occasionally. Store in a sealed container.