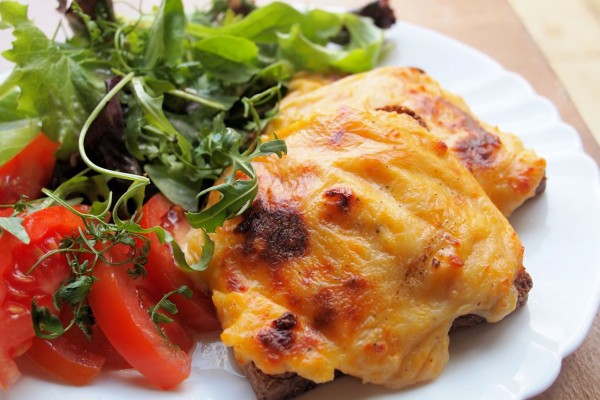 lavenderandlovage.com

Typically referred to as Welsh Rarebit, this recipe incorporates Guinness, allowing it to be re-named, Irish Rarebit.  Similar to an open-faced cheese sandwich, however rarebit is smoother and creamier. Adding tomatoes alongside adds bonus texture and color to this simple yet flavorful plate.

Size:

yields 10



Ingredients:
4 tbsp butter
4 tbsp all-purpose flour
1 cup low-sodium chicken broth
1 tbsp stone-ground (coarse) mustard
2 tsp honey
1 cup dark beer (I like to use Guinness)
2 cups grated Cheddar cheese, good quality... Irish cheddar works well
10 slices whole-wheat bread (firm or country-style), toasted
2 green onions, minced
5 medium tomatoes, quartered



Directions:




Melt butter until bubbly in a large skillet set over medium-high heat.  Add flour and stir together until golden brown, about 2 minutes.  Turn heat to high, add broth and whisk together until combined and thickened, about 1 minute.

Reduce heat and whisk in mustard and honey until well mixed.  Add ale/Guinness and whisk over medium-high heat for about 3 minutes.  Add cheese and cook over low heat, just until cheese is melted.

Pour over 10 slices of toasted whole-wheat bread and brown under broiler.  Sprinkle green onion overtop.  Serve immediately with tomato quarters alongside.