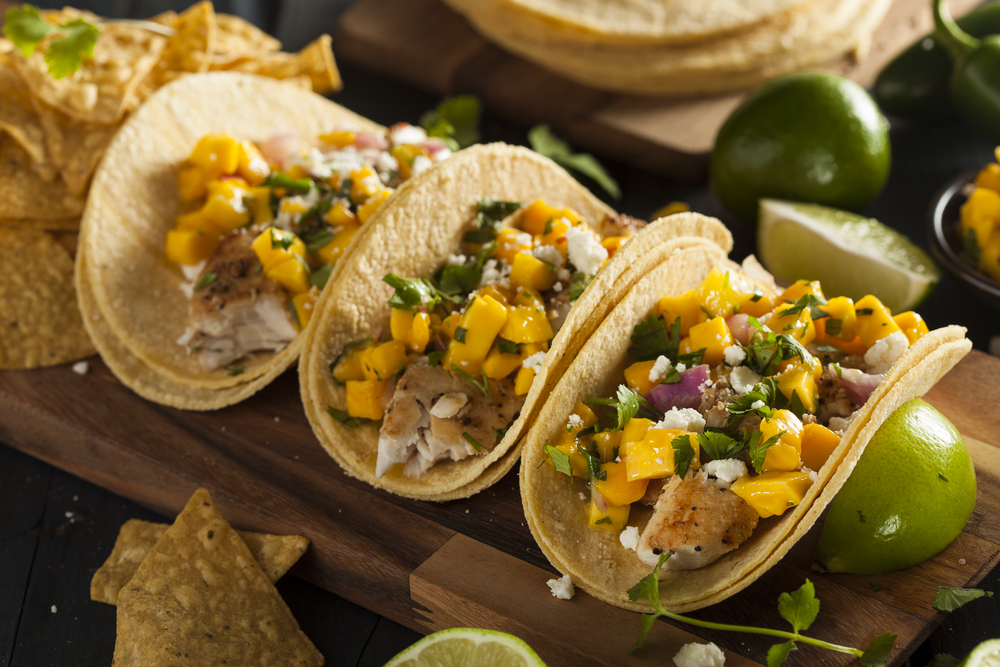 I know the idea of Kid's Meal doesn't automatically invoke thoughts of seafood, but with a mango salsa and avocado, even the pickiest kid will love them. I personally don't do all the chopping and I just buy fresh mango salsa at the grocery store. Saves me a ton of time. If you like chopping then follow the recipe. This is super easy and delicious.

Size:

Serves 6 (2 tacos each)



Ingredients:
2 lbs tilapia (or any inexpensive white fish)
12 soft small flour tortillas
1 ripe mango (peeled and chopped into bite sized pieces)
1 orange or yellow bell pepper (seeded and diced)
1/2 onion (diced)
1 small ripe tomato (diced)
2 garlic cloves (finely chopped) N.O.W.N -> use 3 Dorot frozen garlic cubes
2 tablespoons chopped cilantro (finely chopped) N.O.W.N. -> use 4 Dorot frozen cilantro cubes
Hellmann's mayo
Frank's Hot Sauce
1 ripe avocado chopped



Directions:




Preheat oven to 350. On cookie sheet drizzle a small amount of olive oil. Lay out tilapia. Brush or mist olive oil on fish then season with salt and pepper or Adobe Seasoning.
Cook fish for 10 minutes (or until cooked through.)

Meanwhile, saute onion and garlic over low-medium heat for 2 minutes or until onion is translucent.
Add, pepper and saute for an additional minute.
Add, mango, tomato, and cilantro, lower heat and simmer until hot.

N.O.W.N -> Buy Mango Salsa pre-made

Here is the VERY SECRET recipe for my "special sauce" which my kids love on almost anything. Mix Hellman's Mayo and Frank's Hot Sauce to desired spiciness.

Lay fish, salsa, special sauce and avocado on a small flour tortilla. You can buy the healthier ones but they won't like them as much … I've tried. Roll and serve warm.