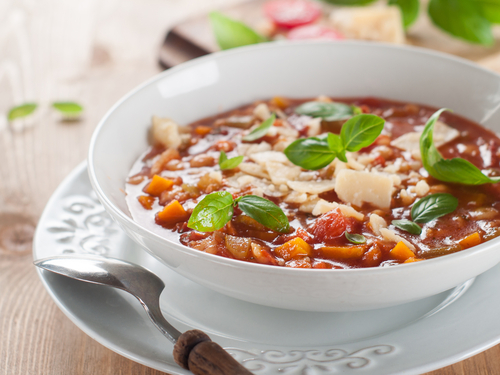 I just made this soup for lunch today and it is delicious and healthy. I made a few changes so, here is my version.

Size:

6



Ingredients:
2 tbsp olive oil
1 Mirepoix from Trader Joe's(1-2 chopped carrots, 1/2 chopped onion, 2 celery stalks chopped)
2 small zucchini chopped
2 garlic cloves chopped(I used Dorat frozen garlic cubes from Trader Joe's)
1 tsp oregano
1 tsp thyme
2 bay leaves
1 cup fresh or frozen green Beans
1 can cannellini beans, rinsed and drained
1 1/2 cup uncooked quinoa pasta shells
2 15oz.cans organic diced tomatoes with juice
pepper to taste
2 cup chopped spinach
4 tbsp of chopped basil
parmesan cheese optional



Directions:




In a large pot heat oil over medium heat.
Add all carrots, zucchini, green beans, onion, celery, garlic, bay leaves, oregano and thyme.
Cook, stirring often, until vegetables are tender, about 10 minutes.
Add 8 cups water, cannellini beans and tomatoes.
Increase heat to high and bring to a boil.
Reduce heat to low and simmer gently until pasta is tender, about 20 minutes. Remove bay leaves and add pepper.
Stir spinach and basil into soup just before serving. I put it in the bottom of each bowl and pour the soup over it and then mixed it.

I also sprinkled mine with grated parmesan cheese.

You can add whatever veggies you like -chickpeas, peas, fennel etc.