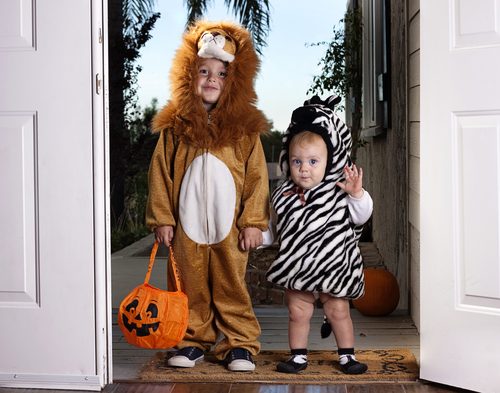 As a kid I loved Halloween. Nothing – I mean nothing, could stop my friends
and I from going out to get our sugar fix. That says something since I grew up
in northern Canada where there was usually snow on the ground Halloween
night and in the very least you planned your costumes around snowsuits,
toques and mitts. However, now that I'm a parent and have to cull the candy
after the haul (and essentially play the bad guy) it makes me uptight. My kids
just don't need all that extra junk and to add to the mix I have a daughter
with severe peanut and nut allergies. Making it through this ghoulish season
takes a little prep work as well as laying down some guidelines before the big
night or a party.
Here are some helpful tips I use with my kids to make this time enjoyable for
them and less stressful for me:
Before school or friend parties:
1) Feed them a healthy balanced meal – do not send them in with a growling
tummy they will go straight for the junk even if there are healthier options
available.
2) Discuss any food allergies with the teacher or host ahead of time and provide
your own safe treat.
3) I try to be present for my own peace of mind but if I cannot, I emphasize the
importance of NOT eating shared candies or opening any goodies before I've
had a chance to inspect them. If I just don't feel comfortable sending them,
I plan our own special outing and skip the party altogether.
Trick or treating: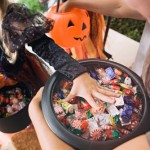 4) Number one rule – do NOT open any candies before I have inspected them.
5) Bargaining – they can trade in a portion or all of their candy for something else agreed upon such as new sports gear, clothing, shoes, toys etc.
6) Cash for candy – I offer to pay per piece of candy – they can either keep the
money or donate it to a worthy cause.
I'm not a total scrooge. I do let my kids keep some candy and allow them to
trade with each other (my eldest can have all my youngest's nut-filled candies
but must give equally back to her of nut-free).
7) Portion control – I let them have their fill on Halloween night but after that
we agree upon the portion per day (one big candy bar or 2 small) and the time
of day (NOT breakfast or before a meal).
8) Toss it – don't be afraid to get rid of it especially the really awful stuff – with
Christmas and all its goodies around the corner there's no need to hang onto
this candy for months on end. You can't think of it as a waste because the cost
of dental work or the healthcare costs of obesity and diabetes far exceeds that
of a piece of toffee.
If you want to set the trend and give out healthy Halloween options, here are
some great ideas for healthier treats.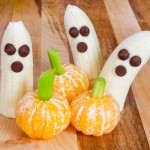 For those concerned about food allergies (whether it's nuts, peanuts, gluten, dairy, food coloring etc) check out our Gluten-Free Candy story and the Teal Pumpkin Project and let people know you are a safe house to trick or treat at by placing a teal pumpkin at your door and following their suggestions for Non- food treats.