Written by: Kathy Santo
Q: We want our dog to have Halloween fun with us, but are worried she might get into the candy or be afraid of the trick or treaters.  What should we do?
Signed,
Jack Skeleton
A: Dear Jack,
Here are some ideas to help you and your dog BOTH have a safe and fun Halloween: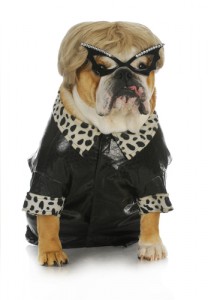 If you dress your pet up in a "doggie" costume, he must be supervised!! Make sure it fits properly and is not in the way of his breathing, eyesight or hearing. Avoid costumes with small parts that, if swallowed, could cause intestinal obstructions or choking.
Chocolate and sweets can be dangerous for your dog! Chocolate contains Theobromine, which can be harmful and sometimes fatal to your dog. Baking chocolate is especially high in this chemical.  Take the trash out more frequently to avoid your dog having a "trash buffet".
Walk your dog early on Halloween, while it's still light outside, and be mindful that your dog may find candy, wrappers and broken eggs on lawns and streets.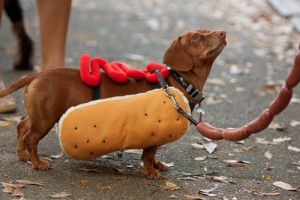 Some dogs are freaked out by children wearing costumes. Hey, some of them scare me, too! When you answer the door on Halloween, make sure pets are in a safe and secure room to prevent them from running outside, getting hurt and frightening your visitors. For those who want their dog to greet trick-or-treaters with them at the door, be sure keep him on leash. This will prevent attempts to jump on people and to run out the door.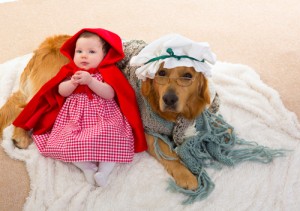 Make sure your dog is wearing his ID! If your dog does get out of the house, you'll have a better chance of having him returned if he's wearing an ID tag, has a reflective collar with the word REWARD and your cell phone number on it, and/or is microchipped.  My dogs have all of the above!
Don't leave your dog unattended outside on Halloween even in a fenced yard! Pranksters who roam the neighborhood with toilet paper, shaving cream or eggs may see your dog as a potential target.  Even if they don't deal with him directly, ingesting any of the above named substances could give him quite a tummy ache – or worse!   Well-meaning children may be tempted to give your dog treats and candy which could mean a trip to the dog emergency room!
If you are having a Halloween party, consider confining your dog securely in his crate or one area of the house. Leaving a TV or radio and lights on will help him cope with the increased noise and activity.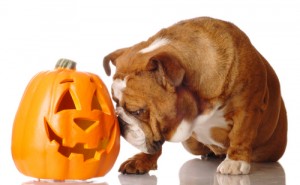 Be careful about where you place candles and Jack-o-Lanterns. They can easily be knocked over by your dog's wagging tail and either burn your dog or start a fire.
Planning a safe and fun holiday means taking into consideration your pet's needs, too.  By taking a few preventative steps, your Halloween fun will end with everyone safe and sound at home, and not in the veterinary ER.
Kathy Santo owns Kathy Santo Dog Training in Ramsey NJ. For more information and tips on how to have a dog that everyone loves to have around, visit her website at kathysantodogtraining.com.