Right around this time of the year, I start getting very jealous of agnostic Canadians. The holidays are looming, like a big, dark storm cloud. When did this time of year go from joyous and wonderful to losing hair in clumps stressful? I refuse to blame myself.
Here is who I blame:
– My aunt and uncle who hosted Thanksgiving before I took over. My memories of this day are like a scene from a Hallmark special, and the pressure of trying to maintain the tradition is starting to get to me. I also blame Martha Stewart, just because.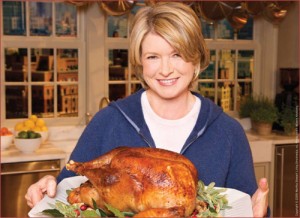 – Elf on a shelf. If you are a parent, I don't think I have to explain the stress the little guy adds to the holidays. How many times can I wake in a panic at 3am trying to remember if he made his "magical" trip to the North Pole? As if he weren't bad enough, Santa brought his trampy girlfriend last year, so this year, we have double elfish trouble. AND … you might want to sit down for this one. I saw this at Barnes and Noble yesterday, and, no joke, almost threw up all over the plush toys. I steered the kids away as quickly as possible, but it is only a matter of time …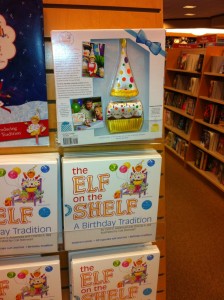 – Mary – Giving birth to Jesus during the busiest time of the year was really poor planning.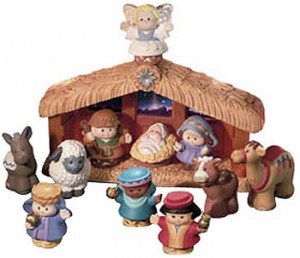 – My mother – My mom lost her mind at Christmas, quite literally. We would find Windex in the fridge and full cups of tea in the cabinet. Normally, knowing my insanity is genetic would make me feel better but, there's a catch. She spearheaded crazy Christmas with an unwavering smile on her face and a constant carol on her lips. I do it with a constant grimace on my face and a muttering curse on my lips. I've got to stop comparing, but it's really hard!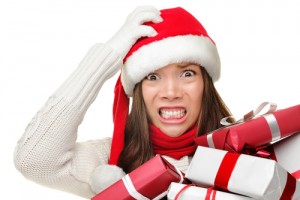 – My husband – If he says, "Don't worry, it will all get done," one more time, it will be this marriage that is done. The only way it gets done, is if someone – me – actually does it.
Ahhhh. I feel better. Seriously, if you can't afford therapy, write a blog.