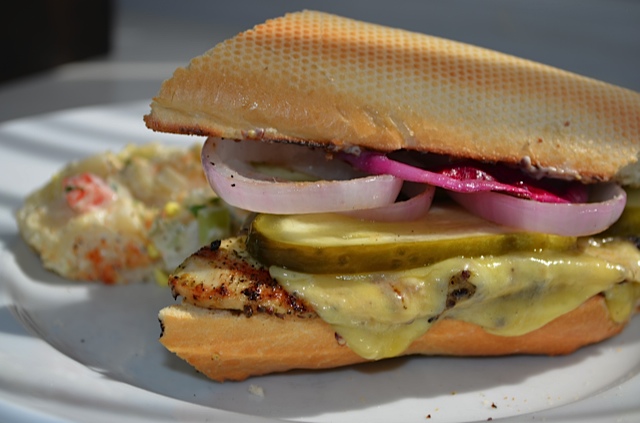 Prepared by and photo by Emily S. Downs

With so little ingredients, it's amazing how fully packed with flavors this grilled chicken sandwich is.  I dig the melted cheese oozing over the marinated chicken with toasty bread, sour pickles and grilled onion… goodNess.

Size:

makes 4



Ingredients:
1/4 cup plus 3 tbsp whole-grain mustard
1/2 cup extra-virgin olive oil
1/3 cup chopped fresh dill
2 garlic cloves, minced (1 tbsp)
Coarse salt and freshly ground pepper
2 cutlets (6 oz each)
1 large red onion, sliced into 1/2" thick rounds
3 oz aged cheddar cheese, thinly sliced
1 baguette, cut crosswise into 4 pieces and halved horizontally
3 tbsp creme fraiche
3 sour pickles, thinly sliced lengthwise



Directions:




Mix 1/4 cup mustard, the oil, dill, garlic, 1 1/2 teaspoons salt, and 3/4 teaspoon pepper in a medium bowl.  Add chicken and onion, and toss to coat.  Refrigerate, covered, for 30 minutes.

Preheat grill to medium-high.  Grill onion, turning often, 8 to 10 minutes.  Grill chicken on 1 side for 3 minutes; flip, top with cheddar, and cook 3 minutes more.  Cut cutlets in half.  Grill baguette, cut sides down, until crisp, 1 to 2 minutes.

Mix remaining 3 tablespoons mustard and the creme fraiche in a small bowl.  Spread onto cut sides or baguette.  Sandwich chicken, pickles, and onion between bread.