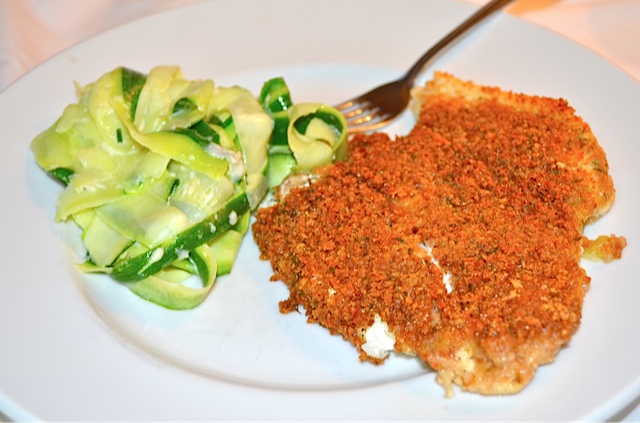 prepared by and photo by Emily S. Downs

Although I'm a fan of fried fish, this is a much healthier alternative and can be as equally crunchy when baked.  Not heavy in the slightest.  The flounder rests on a bed of mushrooms and green onions, which is then blanketed with a light lemon-wine sauce. Perfect side dish… Zucchini Alfredo. King's sells spaghetti squash and zucchini.

Size:

serves 4



Ingredients:
1/2 cup sliced mushrooms
1/3 cup green onions
1 1/2 lbs flounder
1/8 tsp garlic powder
1/8 tsp pepper
2 tsp lemon juice
1/4 cup dry white wine
1/2 cup seasoned breadcrumbs (white or whole wheat)
1/4 cup butter or margarine, melted



Directions:




Preheat oven to 400F.

Sprinkle mushrooms and green onions on bottom of 9×5″ baking dish.  Arrange fish over mushrooms and onions.  Season with garlic powder and pepper.  Pour lemon juice and wine over fish, followed by breadcrumbs covering the entire pieces of fish.  Pour melted margarine over breadcrumbs.  Bake for 30 minutes or until golden brown.