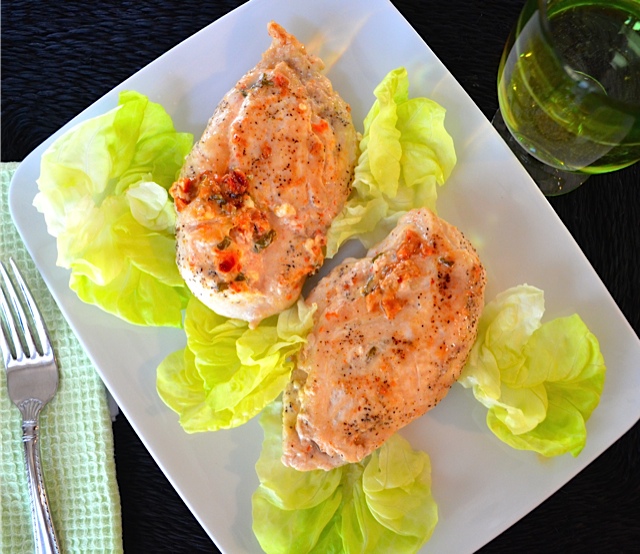 prepared by and photo by Emily S. Downs

An easy chicken dish to prep for the entire family. Not just your ordinary sautéed chicken because it's stuffed with seasoned cheese! Need I say more?

Size:

4 servings



Ingredients:
1 tbsp dried tomatoes (not oil-packed)
4 skinless, boneless chicken breast halves (1 to 1 1/2 lbs total)
1/4 cup crumbled feta cheese (1 oz)
2 tbsp softened cream cheese (1 oz) OR fat-free cream cheese
2 tsp snipped fresh basil or 1/2 tsp dried basil, crushed
1/8 tsp ground black pepper
1 tsp olive oil or cooking oil
Fresh basil sprigs (optional)



Directions:




Place tomatoes in a small bowl. Pour enough boiling water over the tomatoes to cover. Let stand for 10 minutes. Drain, pat dry and thinly slice; set aside. Meanwhile, using a sharp knife, cut a pocket in each chicken breast by cutting horizontally through the thickest portion to, but not through, the opposite side. Set aside. In a small bowl, combine feta, cream cheese, the fresh or dried basil, and tomatoes. Spoon about 1 rounded tablespoon into each pocket. If necessary, secure openings with wooden toothpicks. Sprinkle chicken with pepper.

In a large nonstick skillet, cook chicken in hot oil over medium-high heat for 12 to 14 minutes or until tender and no longer pink, turning once (reduce heat to medium if chicken browns too quickly). Serve warm. If desired, garnish with basil sprigs.