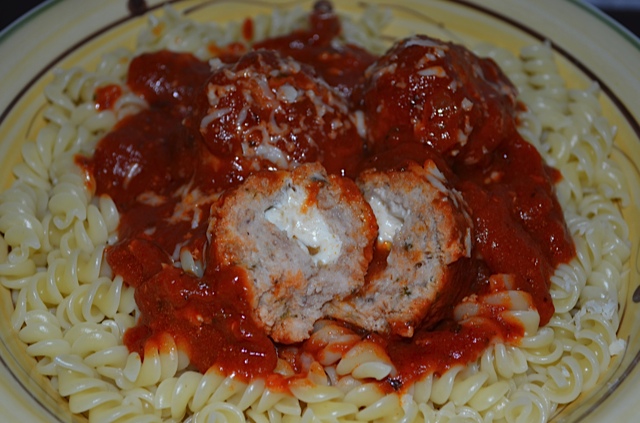 prepared by and photo by Emily Doscher

Bite into one of these meatballs and you will be pleasantly surprised with the texture of warm cheese.  What better to stuff a meatball with?

Size:

serves 10-12



Ingredients:
1/3 cup milk
1 cup fresh bread crumbs
1 lb each... ground pork, veal and beef
1/3 cup minced fresh flat-leaf parsley, plus more for garnish
3 eggs, lightly beaten
3 garlic cloves, minced
1 3/4 tsp kosher salt
1/2 tsp freshly ground pepper
1/3 lb mozzarella or provolone, cuts into 1/2" cubes
Olive oil for frying
About 6 cups your favorite tomato sauce
2 lb pasta, cooked and drained
Grated Parmigiano-Reggiano for serving



Directions:




In large bowl, combine milk and bread crumbs.  Add meats, 1/3 cup parsley, eggs, garlic, salt and pepper.  Mix briefly with hands.  Form into 2″ balls.  Seal a cheese cube into center of each ball.  In large skillet set on medium-high heat, heat 1/2″ oil until almost smoking.  Brown meatballs 1 minute per side.  Transfer to paper towel-lined tray.

Discard oil in pan.  Pour tomato sauce into pan; bring to simmer over medium-high heat. Add meatballs, reduce heat to medium-low, cover and simmer until cooked through, 30 minutes.  Uncover; cook 10 minutes more.  Serve over pasta with cheese.