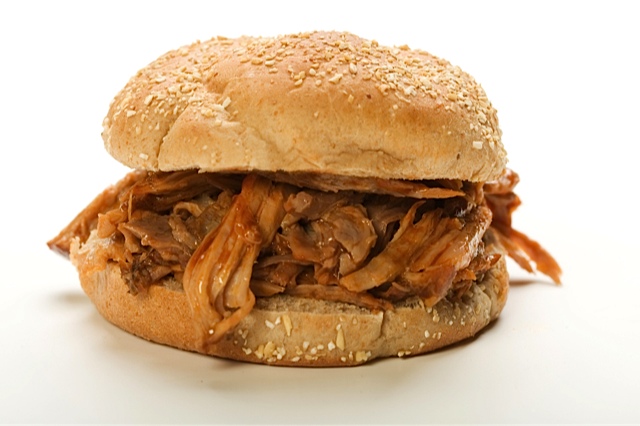 Perfect for a party or a hearty sandwich supper.  Include a healthy serving of coleslaw right atop of the sandwich or alongside, either way it completes the meal.  Slow-cooking keeps the pork juicy and tender.

Size:

serves 6-8



Ingredients:
3 tbsp canola or corn oil
4 lbs (cut into 3 equal pieces) boneless pork shoulder
1 yellow onion, finely chopped
3/4 cup cider vinegar
3/4 cup tomato ketchup
1/3 cup brown sugar
1/4 cup light molasses
1/2-1 tsp red pepper flakes (all depends if you can take the heat!)
1 tbsp Worcestershire sauce
1 tsp dry mustard
Salt and freshly ground pepper
Soft sandwich rolls, split and toasted, for serving



Directions:




In a large frying pan over medium-high heat, warm the oil.  Add the pork pieces and brown well on all sides, about 12 minutes total.  Transfer the pork to the slow cooker.

Pour off all but about 1 tablespoon fat from the frying pan and return the pan to medium-high heat.  Add the onion and saute until golden, about 5 minutes.  Add the vinegar and deglaze the pan, stirring to scrape up the browned bits on the pan bottom.  Stir in the ketchup, brown sugar, molasses, red pepper flakes, Worcestershire sauce, mustard, and 1 teaspoon each salt and pepper.  Cook stirring occasionally, just until the mixture begins to bubble.  Pour over the pork.  Cover and cook on the high-heat setting for 4-5 hours or the low-heat setting for 8-10 hours.  The pork should be very tender.

Transfer the pork pieces to a platter.  Using a pair of forks, shred each piece of pork, removing and discarding any large pieces of fat.  Skim off the excess fat from the surface of the sauce and return the pulled pork to the sauce.  Stir together to combine.  Serve the pork and sauce atop the sandwich rolls.