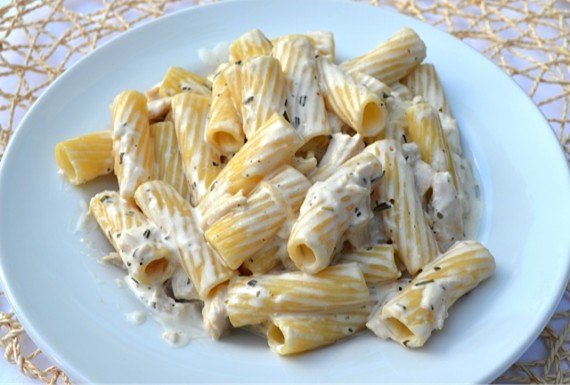 prepared by and photo by Emily Doscher

A friend of mine recommended I try this delicious pasta dinner… thankfully, I did and y.u.m.m.y.!  Inspired by Michael Symon's Mac and Cheese recipe, (served nightly at his restaurant, Lola; Cleveland) she suggested to use herbed goat cheese rather plain which takes the dish a bit deeper in flavor. A notch above your ordinary Alfredo sauce incorporating roasted chicken, fresh rosemary in addition to the herbed goat cheese.

Size:

8 servings



Ingredients:
Kosher salt
1 lb dried Rigatoni
1 qt (4 cups) light cream
2 tbsp chopped fresh Rosemary
8 oz (1 cup) fresh herbed goat cheese
2 cups shredded roasted chicken (I use store-bought Rotisserie chicken)
Black pepper



Directions:




Bring a large pot of salted water to a boil.

While the water is coming to a boil, combine the cream, rosemary, and a pinch of salt and pepper in a large saucepan over high heat. Bring just to a simmer, then lower the heat to medium and simmer to reduce the mixture by half.

Add the chicken to the cream and bring the mixture back to a simmer. Continue cooking until it coats the back of a spoon, about 30 minutes.

Add the rigatoni to the boiling water and cook it until al dente (about 10 minutes). Drain the pasta from the water and add to the sauce.

Add the goat cheese to the pot. Toss the pasta to combine it with the sauce and bring it back to just a simmer. Add more salt and pepper if desired.