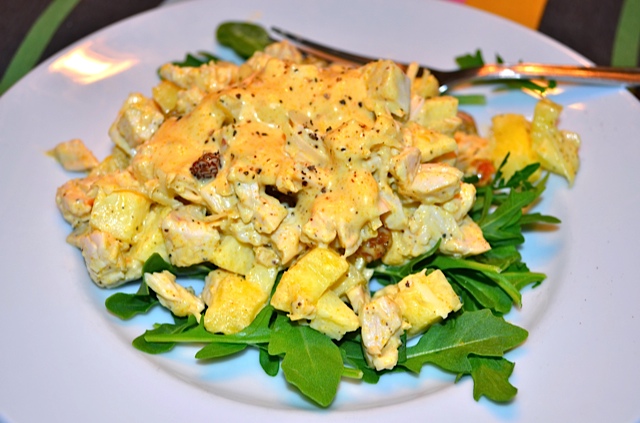 prepared by and photo by Emily Doscher

A chicken salad full of texture and seasoning.  Indian curry is the main ingredient.  Not too spicy but distinct in flavor.

Size:

4 servings



Ingredients:
2 tbsp low-salt chicken broth
1 tbsp curry powder
1 cup mayonnaise
2 tbsp mango chutney (such as Major Grey's)
1 tbsp fresh lime juice
2 1/2 cups diced cooked chicken (about 8 oz)
1 cup diced unpeeled apple
1 cup diced peeled fresh pineapple
1/2 cup sweetened flaked coconut
1/3 cup chopped dates
1/4 cup golden raisins
Arugula or mixed greens



Directions:




Stir chicken broth and curry powder in small saucepan over medium heat until thick, aobut 3 minutes.  Transfer to medium bowl and cool.  Whisk mayonnaise, mango chutney, and lime juice into curry paste for dressing.

Mix chicken and all remaining ingredients except for diced pineapple in large bowl.  Add 3/4 cup dressing; toss.  Mix in remaining dressing by tablespoonfuls, if desired.  Add pineapple just prior to serving, as causes chicken to become mushy.  Season with salt and pepper.  (Can be made 4 hours ahead.  Cover and chill.)  Serve over greens.