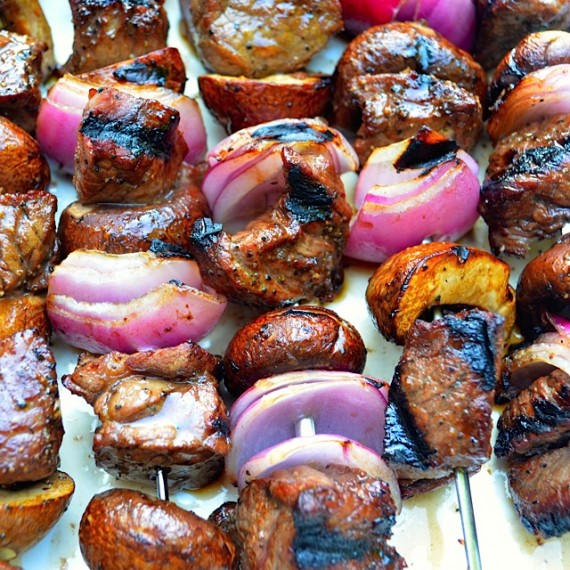 prepared by and photo by Emily S. Downs

Have a hankering for beef? Give this beef, mushroom and onion kabob a go. I certainly had a craving and this version rid me of it with complete satisfaction! Adapted from seriouseats.com… the only thing truly altered is that most of us with our busy lives use gas grills… as their recipe calls for a good-ole fashioned charcoal.

Size:

serves 4-6



Ingredients:
1/4 cup extra-virgin olive oil
1/4 cup Worcestershire sauce
3 tbsp soy sauce
1 tbsp freshly squeezed lemon juice from 1 lemon
1 tbsp Dijon mustard
2 medium cloves garlic, thinly sliced
2 tsp dark brown sugar
1 tsp freshly ground black pepper
1 1/2 lbs beef sirloin tips, cut into 1 1/2" cubes
8 oz cremini (sometimes referred to as baby portobellos)
1 large red onion, sliced into 1 1/2" cubes (about onion layers each)



Directions:




Whisk together oil, Worcestershire, soy sauce, lemon juice, mustard, garlic, brown sugar, and black pepper in a small bowl. Place beef cubes and mushrooms in a large resealable plastic bag. Add marinade and seal bag, pressing out as much air as possible. Marinate, refrigerated, for at least 1 and up to 5 hours.

Preheat grill on high.

Thread beef onto skewers, alternating with mushrooms and onions.

Lower grill heat to medium-high. Oil the grilling grate. Grill skewers until beef is well seared on all sides and center of beef registers between 125-130F on an instant read thermometer, about 3 minutes per side. Transfer skewers to platter and let rest for 5 minutes. Serve immediately.