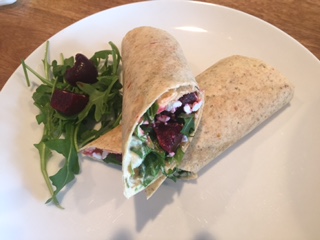 Here is my new favorite lunch. I even make it ahead and take it to work with me. I have made it for friends and everyone loves it. I found this recipe from Danette May's cookbook.

Size:

1



Ingredients:
1 6-inch gluten free wrap or sprouted grain tortilla
1 tbsp. hummus
1/2 cup peeled beet
2 tbsp./1/2 oz. feta
1/4 cup packed argula



Directions:




Spread the hummus down the middle of the tortilla. Sprinkle evenly with arugula, feta and beets. Roll up and enjoy. I wrap it in saran wrap if I am taking it to work. You can make it the night before as well.

You can find most of these ingredients at Trader Joe's. I always buy my beets and arugula there. They are ready to go out of the package.