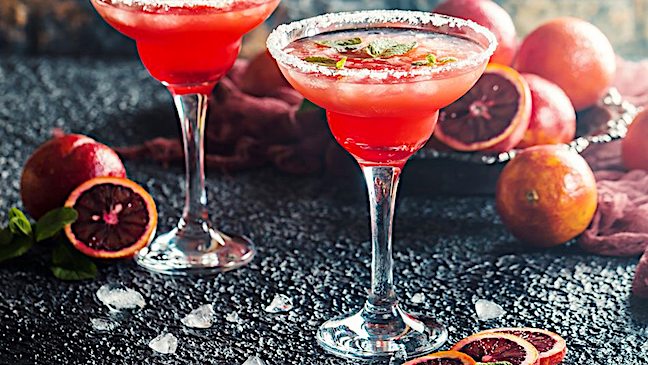 Our staff loves blood orange margaritas for their perfect blend of tart and sweet and their bold, beautiful red color.
Ingredients
2/3 cup fresh lime juice
1/4 cup sugar
1 cup silver tequila
1/2 cup Cointreau
2 cups fresh blood orange juice (from about 6 blood oranges)

For the rim:
Coarse Kosher salt
1/2 a lime for moistening the glass rim

Ice cubes
mint optional for garnish
Directions
In a pitcher, stir lime juice, sugar and 3/4 cup water until the sugar dissolves. Add tequila, Cointreau and blood orange juice. Cover and refrigerate until chilled, about 1 hour.
For the rim: Spread coarse salt on a small plate. Moisten the rims of your martini glasses and dip the rims glasses into the salt. Fill a cocktail shaker about 3/4 full of ice and measure in 1 1/2 cups of the margarita for 3 drinks. Cover and shake for 15 seconds so mixture is chilled. Strain into the prepared glasses. Use same instructions for the next batch.