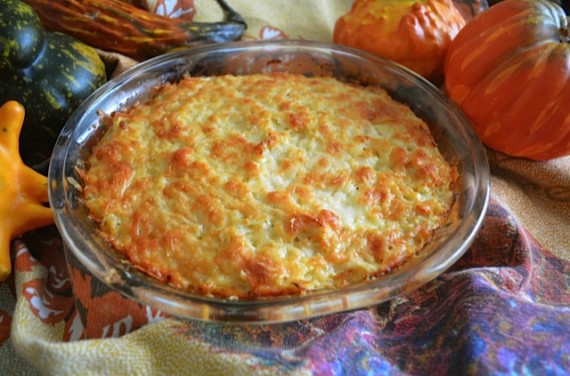 prepared by and photo by Emily Doscher

Celery root (celeriac) is a wonderful accompaniment to any main meat dish. Grated, sauteed in cream and then baked with Parmesan cheese, you can't go wrong. Rich and delicious, yet low in carbs and high in Vitamin K, which increases bone mass by promoting osteotrophic activity in the bones. It also contains some of the essential minerals such as phosphorus, iron, calcium, copper and manganese.

Size:

serves 6-8



Ingredients:
1 celery root (about 2 lbs)
1 1/2 cups heavy cream
5 eggs
1 tbsp unsalted butter
1 cup freshly grated Parmesan cheese
Salt and pepper



Directions:




Preheat oven to 450F.

Peel and grate the celery root. Heat the cream in a large saucepan in a large saucepan over moderately high heat. Add celery and season with salt and pepper.

Bring to a boil, reduce heat to moderate and simmer until softened , about 10 minutes. Empty into a large mixing bowl. Add the eggs one at a time, stirring well after each addition. Use the butter to grease a 9×13″ baking dish or 1 1/2 qt. capacity gratin dish. (Alternatively, butter 6 individual 1 cup gratin dishes.) Fill about 3/4 full with the celery mixture. Cover with Parmesan and bake until browned and set, about 20 minutes. Serve hot.