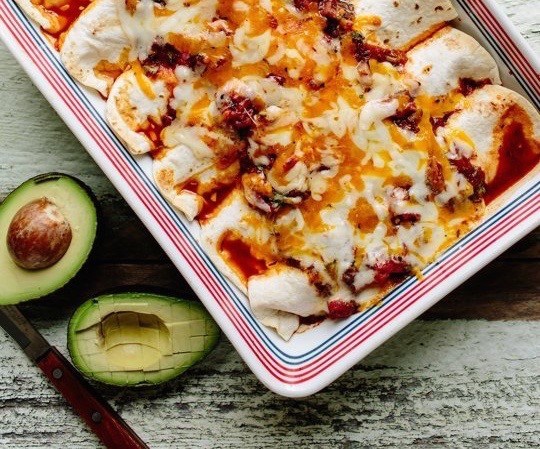 photo creds: thekitchn.com

Enchiladas or burritos? Call them what you will. This combination of creamy avocados, smoky chipotle peppers, black beans and corn offer a meatless Mexican influenced dinner. A crunchy fresh greens salad alongside completes the meal. thekitchn.com once again offers up a celebratory dish!

Size:

makes 8 burritos



Ingredients:
2 chipotles in adobo sauce, finely minced
1 cup sour cream
2 (15 oz) cans low-sodium black beans, drained and rinsed
2 cups corn kernels (fresh or frozen)
2 medium avocados, cut in 1/2" dice
8 (8") flour tortillas
2 cups salsa
1 cup shredded cheddar or Monterey Jack cheese



Directions:




Preheat the oven to 350F. Coat an 9×13″ baking dish with cooking spray.

Combine chipotle and sour cream in a bowl. Puree half the beans in a food processor; add to the sour cream mixture. Stir in the whole beans and corn until well combined. Gently stir in the avocado.

Warm the tortillas according to package directions. Working one at a time, spoon 1/8th of the bean mixture down the center of each. Roll the tortillas closed anyplace seam-sir down in the prepared baking dish. Spoon the salsa over the tortillas and top with the shredded cheese. Cover and bake 20 minutes until cheese is melted and burritos are warmed through.