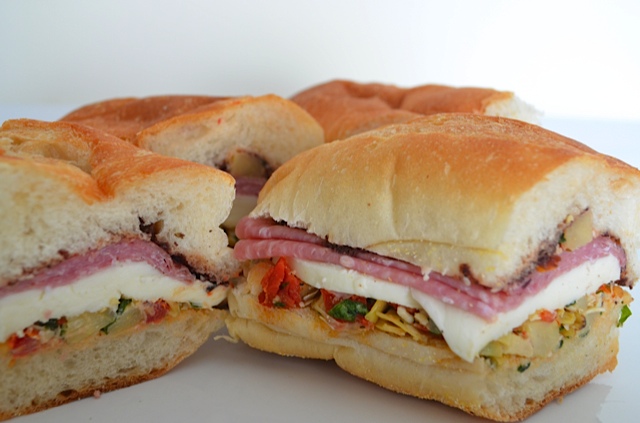 prepared by and photo by Emily S. Downs

These sandwiches can be prepared 4 hours and/or up to one day ahead of serving. Gives time for the flavors to blend perfectly.

Size:

makes 4



Ingredients:
2 (6 oz) jars marinated artichoke hearts, drained, chopped
1/2 cup chopped drained oil-packed sun-dried tomatoes
1/2 cup freshly grated Parmesan cheese
1/2 cup chopped fresh basil
2 tbsp extra-virgin olive oil
4 (5" diameter) or 6" Italian rolls, split in half lengthwise
12 oz fresh water-packed mozzarella, drained, sliced
6 oz salami, thinly sliced
8 tbsp green olivada (olive spread or olive paste... if unavailable, simply puree pitted brine-cured olives)



Directions:




Mix fresh 5 ingredients in medium bowl to blend. Season to taste with salt and pepper. Divide artichoke mixture among bottom halves of rolls. Top with cheese, then salami. Spread top half of each roll with 2 tablespoons olivada. Place atop salami. Press sandwiches lightly to compact and wrap each tightly in plastic wrap. Refrigerate sandwiches at least 4 hours and up to 1 day.