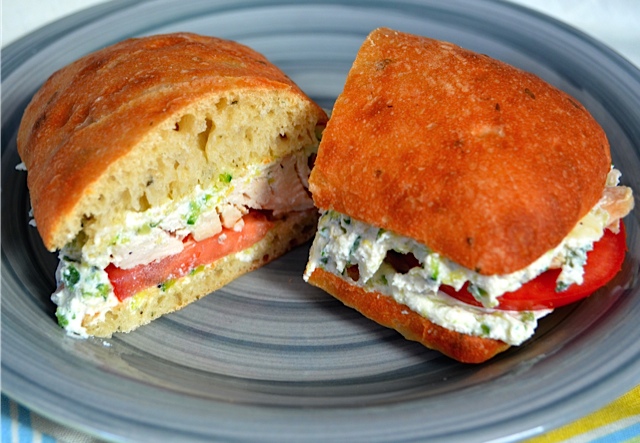 prepared by and photo by Emily S. Downs

Using purchased Rotisserie chicken and making the ricotta cheese mixture prior to assembling these sandwiches cuts down prep time.

Size:

4 servings



Ingredients:
2 medium zucchini, shredded
2 teaspoons salt
1 tablespoon olive oil
1 (15 oz) container whole-milk ricotta cheese
1/4 cup freshly grated Parmesan cheese
1 teaspoon grated lemon peel
4 (5x4") pieces focaccia or ciabatta, halved horizontally
2 large tomatoes, thinly sliced
4 purchased roasted chicken breast, skinned, boned, thinly sliced crosswise (I use Rotisserie chicken)



Directions:




Mix zucchini and salt in medium bowl. Transfer to colander; set over bowl. Let stand 15 minutes to drain liquid from zucchini. Rinse and drain zucchini. Squeeze zucchini to remove liquid.

Heat oil in large skillet over medium heat. Add zucchini and sauté 2 minutes. Cool slightly. Add ricotta, Parmesan and lemon peel to zucchini. Stir to blend. Season to taste with salt and pepper. (Can be made 8 hours ahead. Cover; chill.)

Preheat broiler. Arrange focaccia pieces cut side up on baking sheet. Broil focaccia just until lightly toasted. Spread ricotta mixture generously over 8 focaccia pieces. Broil until ricotta mixture is heated through and beginning to brown in spots, about 4 minutes.

Top 4 focaccia pieces with tomato slices, then with chicken slices, dividing equally. Sprinkle with salt and pepper. Cover with remaining 4 focaccia pieces, ricotta-mixture side down. Cut sandwiches diagonally in half and serve.