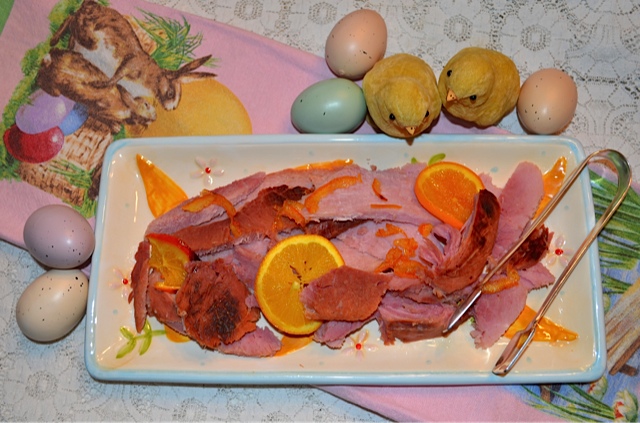 prepared by and photo by Emily Doscher

Want your family to rush to the table to dig into their meal?  Try selling them on the fact that orange marmalade is used and it creates a candy-coating!  Buying an already spiral-cut ham is key.  I found that out the hard way…

Size:

serves 6-8



Ingredients:
1 smoked bone-in ham (10 lbs) (pre-sliced spiral easier to work with)
1/2 cup orange marmalade (5 oz)
3 tbsp Madeira or dry sherry
1 tbsp plus 1 1/2 tsp fresh lemon juice
2 navel oranges



Directions:




Preheat oven to 350F.  Cover ham with a large piece of parchment and then foil.  Place ham, widest side down, on a heavy rimmed baking sheet.  Bake for 1 hour.
Heat marmalade, Madiera or sherry, lemon juice, and juice of 1/2 orange in  a saucepan over medium heat until runny, about 5 minutes.
Remove ham from oven, and uncover.  Score ham all over in a diamond pattern.  Brush 1/2 of the glaze over ham.  Thinly slice remaining 1 1/2 orange, and arrange slices over glaze, covering the ham.
Increase temperature to 425F.  Bake ham, uncovered, for 20 minutes.  Brush with remaining glaze, and bake until golden brown, 10 to 30 minutes before slicing.  Top with orange slices, and serve.