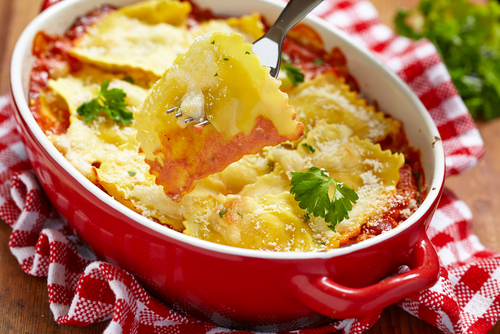 prepared by Emily S. Downs

Quick to prep and easy to serve.   One of those meals the entire family digs into and finishes with a smile.

Size:

8-10 servings



Ingredients:
1 1/2 24 oz packages refrigerated/frozen cheese-filled ravioli
1 1/2 lbs ground beef
1 large onion, chopped (1 cup)
4 cloves garlic, minced
1 14.5 oz can diced tomatoes, undrained
1 10.75 oz can condensed tomato soup
1 tsp dried basil, crushed
1 tsp dried oregano, crushed
2 cups shredded mozzarella cheese (8 ozs)
1/2 cup finely shredded Parmesan cheese (2 ozs)
Salt and pepper



Directions:




Preheat oven to 375F.  Cook ravioli according to package directions; drain well.  Return to pan; cover and keep warm.

Meanwhile, in a large skillet, cook ground meat, onion, and garlic over medium heat until meat is brown and onion is tender, drain off fat.  Stir in tomatoes, soup, basil, and oregano.  Season with salt and pepper.  Gently stir in cooked ravioli.

Transfer mixture to an ungreased 3 qt.  rectangular baking dish.  Sprinkle with mozzarella cheese and Parmesan cheese.  Bake, uncovered for about 20 minutes or until heated through.