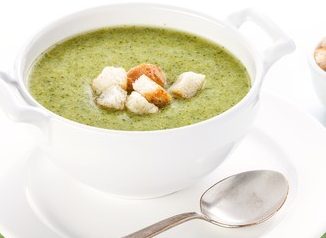 Perfect soup on a cold winter's night. A rich and creamy combination of roasted garlic and broccoli paired with a cheese based broth. Be certain to allow time to roast the garlic prior to preparation of this soup.

Size:

4 servings



Ingredients:
5 unpeeled garlic cloves
2 lbs broccoli florets
2 tbsp olive oil
4 oz cream cheese
3 cups low-sodium chicken broth
Salt & pepper



Directions:




In a 400F oven, roast 5 the unpeeled garlic cloves in foil for 50 minutes.

Roast 2 pounds broccoli florets tossed with 2 tablespoons olive oil for 20 minutes.

Squeeze garlic into a blender; add broccoli, 4 ounces cream cheese and 3 cups low-sodium chicken broth and puree until creamy.

Reheat the soup, season with salt and pepper and serve with croutons.