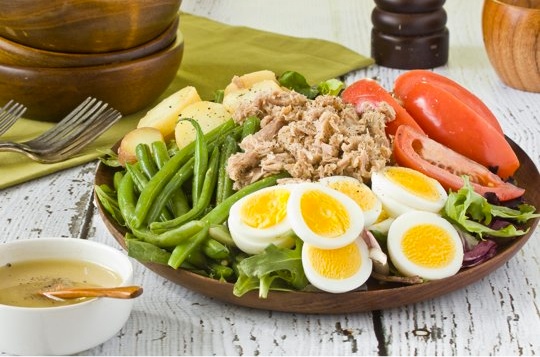 thekitchn.com

Niçoise… I don't serve this enough. It's got everything. The lemony vinaigrette in this particular recipe makes it my favorite version.

Size:

serves 4



Ingredients:
DRESSING:
1 cup canola oil
1/4 cup white vinegar
1/4 cup cider vinegar
2 tsp Dijon mustard
1 large garlic clove, smashed
1/4 tsp mustard powder
1/4 tsp lemon-pepper spice mix (in spice section of super markets)
Kosher salt and freshly ground black pepper
SALAD:
1 lb fingerling potatoes
8 oz green beans (or hericots verts)
3 tbsp unsalted butter, divided (melted or at room temp)
3 (4 1/2 oz) cans tuna packed in olive oil, drained
4 large hard-boiled eggs, sliced
2 ripe tomatoes, quartered
Niçoise olives
3 cups Boston or Bibb lettuce



Directions:




DRESSING: Combine the oil, vinegars, Dijon, and garlic in a blender or small food processor and blend until the dressing is thick and creamy (emulsified). Whisk in mustard powder, lemon pepper seasoning, and a generous amount of salt and pepper. Taste and adjust vinegar, lemon pepper seasoning, and salt to taste.

For the salad, place potatoes in a large stock pot and cover with a few inches of water. Add a generous amount of salt and bring to a boil. Cook until potatoes are tender and can easily be pierced with knife, about 10 minutes. Remove the potatoes with a slotted spoon and set aside to cool. Return the water to a boil and add the green beans. Cook until bright green and crisp-tender, 3 to 4 minutes. Remove beans with a slotted spoon (or drain through a colander) and set aside.

Slice the fingerling potatoes crosswise into thin discs, toss with 2 tablespoons of butter, and season with salt and pepper. In a separate bowl, toss the green beans with remaining tablespoon of butter and season with salt and pepper. In another bowl, stir a few tablespoons vinaigrette into the tuna. Taste and add more until desired flavor is reached. Season with salt and pepper.

Spread lettuce onto a serving platter. Arrange potatoes, green beans, eggs, tomatoes, tuna, and olives over lettuce. Serve with remaining dressing on the side.