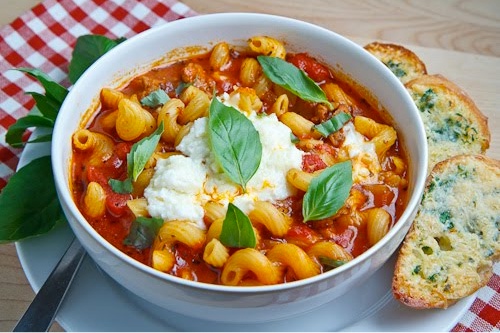 closetcooking.com

There's never an excuse not to feed your family a hearty soup. We need replenishment every day to keep up with all of our active schedules. Kevin from closetcooking.com has this doozy that's crammed with all of the components used in lasagna. Yum!

Size:

4 servings



Ingredients:
1 tbsp olive oil
1 lb Italian sausage, casings removed
1 onion, diced
2 garlic, chopped
1/2 tsp red pepper flakes
1/2 tsp fennel seeds, crushed
4 cups chicken broth or chicken stock
1 (28 oz) can diced tomatoes
2 tbsp tomato paste
1 tsp oregano
1 bay leaf
Salt and pepper to taste
1/2 lb pasta
4 oz ricotta
1/2 cup Parmesan, grated
2 cups mozzarella, shredded
1 handful basil, chopped



Directions:




Heat the oil in a large sauce pan over medium heat add the sausage and cook until lightly browned, about 10 minutes, breaking it apart as you go and set aside reserving the remaining oil and grease.

Add the onion and saute until tender, about 5-7 minutes.

Add the garlic, red pepper flakes and fennel and sausage until fragrant, about a minute.

Add the chicken broth, tomatoes, tomato paste, sausage, oregano, bay leaf, salt and pepper, bring to a boil, reduce the heat and simmer for 30 minutes. (The longer it simmers, the better the flavor.)

Add the pasta and cook until al-dente, about 7 minutes and remove from heat.

Mix the ricotta, Parmesan and mozzarella. Garnish with a hefty tablespoon of the mixture along with the basil.