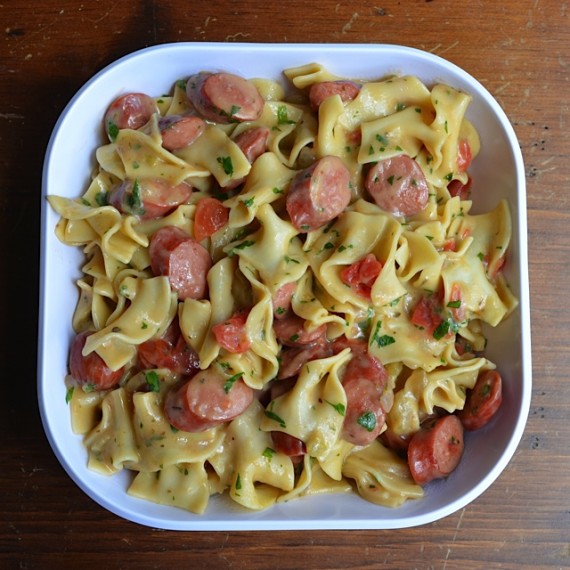 prepared by and photo by Emily S. Downs

Taking children's favorite "dog" and combining it with a bunch of other items so it makes a meal!  I grew up with this campy dish and while it may not seem the healthiest of meals, tweaking a few key ingredients can alleviate several concerns… also… you can make this in a jiff during your busy week! (I prefer to use nitrate-free angus all-beef franks.)

Size:

serves 8



Ingredients:
1 lb all-beef or turkey hotdogs (nitrate-free is better), cut into 1/2" slices on an angle
1/2 cup chopped onion
1/2 tsp dried oregano
2 tbsp unsalted butter
1 can cream of celery soup
1/2 cup milk (recommend non-fat or skim)
1/2 cup chopped canned tomatoes (organic)
2 cups cooked wide egg noodles (2 cups when dry) (recommend yolk-free wide "egg" noodles)
2 tbsp chopped fresh parsely



Directions:




Melt butter in skillet over medium heat.  Brown turkey dogs, chopped onions and seasoning until tender.  Stir in soup, milk, and tomatoes.  Add noodles and parsley, stir occasionally.  Serve when noodles are heated through.