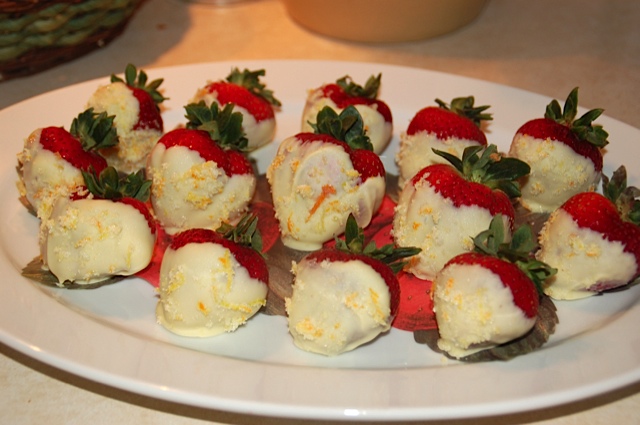 prepared by and photo by Emily Doscher

ummm… yum!  Summer strawberries coated in decadent white chocolate and then dipped once more with a citrus sugar blend.  A wonderful treat on a relaxing summer evening.

Size:

makes 16



Ingredients:
2 tbsp sugar
1/2 tsp finely grated orange peel
1/2 tsp finely grated lemon peel
6 ozs. high-quality white chocolate (such as Lindt or Perugina), chopped
16 large ripe strawberries



Directions:




Line baking sheet with foil.  Using fingertips, mix sugar and citrus peels in small bowl until sugar is moist.  Stir chocolate in small bowl set over saucepan of barely simmering water until melted and smooth.  Remove from over water.

Holding 1 strawberry by stem end, dip 2/3 of berry into chocolate; shake excess back into bowl.  Turn berry dipped end up and sprinkle with citrus sugar.  Chill until chocolate sets, about 30 minutes.