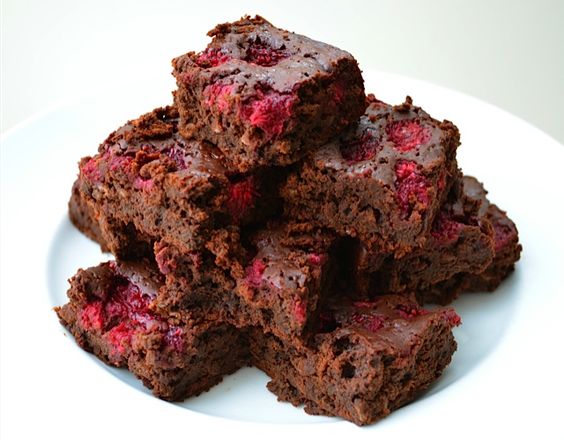 prepared by and photo by Emily S. Downs

Brownies that are too good to be true.  Wholesome ingredients make up each square.  Dark chocolate has been found to:
* control blood sugar levels
* lower blood pressure
* contain Theobromine (shown to harden tooth enamel)
* high in vitamins and minerals (Potassium, Copper, Magnesium & Iron)
* full of antioxidants
* contains phenylethylamine PEA (chemical which encourages your brain to release    endorphins… which makes you happier)
Raspberries are a good source for Vitamin K, Magnesium, Vitamin C & dietary fiber.

Size:

makes 8 servings



Ingredients:
5 oz unsweetened chocolate, coarsely chopped
2 tbsp unsalted butter
3/4 cup turbinado sugar (found in baking section of most supermarkets)
1/3 cup seedless raspberry fruit spread (found in jelly/jam section of supermarkets)
1 1/4 tsp vanilla extract
1 tsp sea salt
1/3 cup whole wheat pastry flour (Whole Foods, Fairway Market)
4 large egg yolks, lightly beaten
1 cup crispy brown rice cereal
1 cup fresh or frozen thawed raspberries



Directions:




Preheat oven to 35F.  Line an 8″ or 9′ square baking pan with nonstick aluminum foil or parchment paper.  Set aside.

Pour water to a depth of 1″ into bottom of a double boiler over medium heat; bring to a boil.  Reduce heat, and simmer; place chocolate and butter in top of double boiler.  Cook, stirring occasionally, 3 minutes or until melted.  Remove from heat.

Combine chocolate mixture, sugar, and next 3 ingredients in a large bowl, and stir until well blended.  Add in flour, then eggs, stirring until combined.  Fold in cereal.

Pour batter evenly into prepared pan.  Sprinkle with raspberries, pressing berries gently halfway into batter.

Bake 30 minutes. (Center will be moist.)  cool completely on a rack.  Cut into 8 bars.  Store in an airtight container in refrigerator for 10 days or freeze up to 2 months.