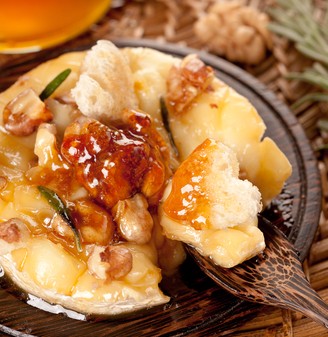 This is one of my go-to Thanksgiving appetizer recipes because it is so simple, smells so great and everyone loves it.

Size:

serves about 10 as an appetizer



Ingredients:
8 oz circle of brie cheese (any kind, don't pay up for it)
1 pkg of Pillsbury crescent rolls
Apricot Jam
Apples sliced into wedges (about 6)



Directions:




Lay 4 triangles of crescent roll dough in a Corning-ware dish. Lay the brie on top. Place the remaining 4 triangles on top of the cheese and mold the dough around the cheese so there are no gaps. (This can be done the night before.)

Bake at 350 for 10 minutes. Pour a small jar of apricot jam all over dough, bake for about another 10 minutes or until jam is bubbling. Serve in the Corning-ware with sliced apple. Put out a cheese spreader so guests can place warm dough, cheese and jam over apples.