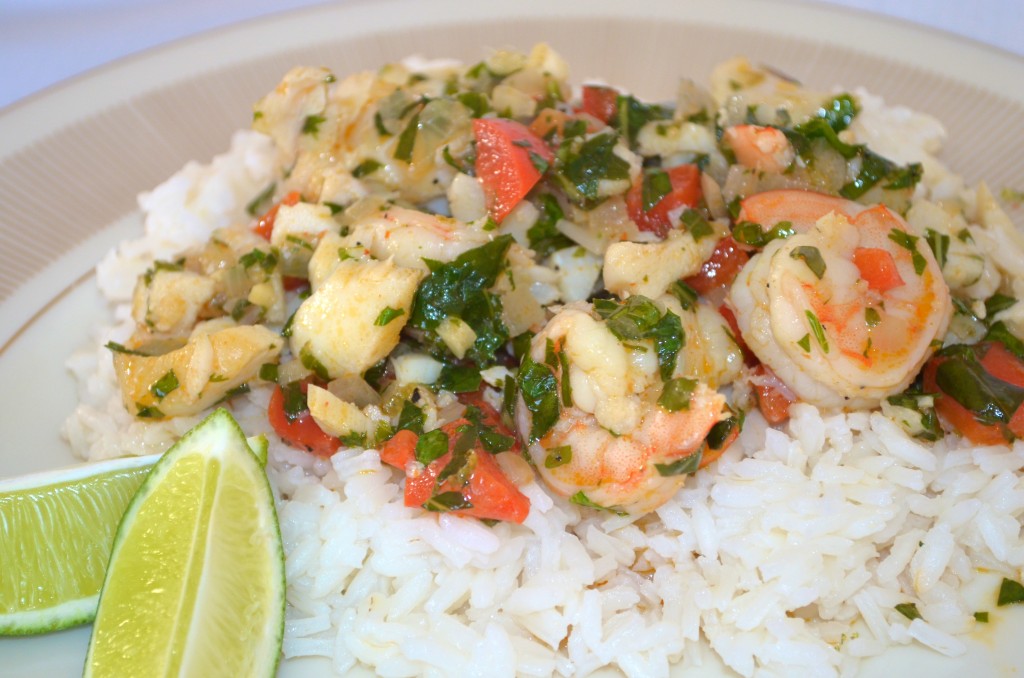 prepared by and photo by Emily Doscher

There's something about Thai curry and coconut milk with any meat or vegetable.  I thank the heavens for this combination.  Just down-right delightful with shrimp and fish. Serving this "stew" over jasmine rice sweetens up the slight-spiciness of the curry.

Size:

4 servings



Ingredients:
3 large limes
1 tbsp vegetable oil
1 cup chopped shallots
1 large red bell pepper, cut into 1/2-3/4" dice
1 1/2 tbsp minced peeled fresh ginger
2 1/2 tsp Thai red curry paste (such as Thai Kitchen brand)
1 13 1/2- to 14 oz can unsweetened coconut milk
1 tbsp fish sauce (such as nam pla or nuoc nam)
16 to 18 oz halibut fillets, cut into 1 1/2" chunks *
8 peeled deveined uncooked large shrimp (8-10 oz)
1/3 cup chopped fresh cilantro
1/3 cup chopped fresh basil
Cooked jasmine rice



Directions:




Finely grate enough peel from 2 limes to measure 1  1/2 tsp.  Squeeze enough juice from 2  limes to measure 2 tbsp.  Cut third lime into wedges.

Heat vegetable oil in large saucepan over medium-high heat.  Add chopped shallots, diced red bell pepper, and minced ginger; saute until shallots are tender and peppers soften, about 5 minutes.  Stir in curry paste, coconut milk, fish sauce, 1  1/2 tsp lime peel, and 2 tbsp lime juice.  Simmer gently, stirring often, about 5 minutes.  Sprinkle fish and shrimp with salt and pepper.  Add fish and shrimp to curry sauce.  Return to very gentle simmer and cook just until fish and shrimp are opaque in center, 5 to 6 minutes.  Season to taste with salt and pepper.  Gently stir in cilantro and basil; serve with lime wedges over jasmine rice.

* I recently couldn't find halibut and substituted cod, and it was terrific!