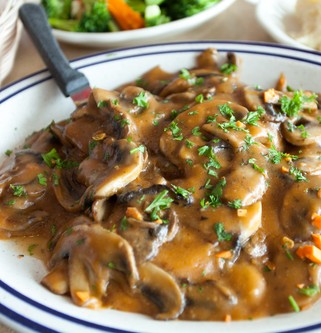 An elegantly comforting dish. Creamy marsala and mushroom sauce atop tender juicy chicken breasts. Great for guests or better yet a week night dinner for the entire family.
Ingredients:
1 3/4 cups reduced-sodium chicken broth (14 fl oz)
2 tbsp finely chopped shallot
5 tbsp unsalted butter
10 oz mushrooms, trimmed and thinly sliced
1 1/2 tsp finely chopped fresh sage
1/4 tsp salt
1/8 tsp black pepper
1 cup all-purpose flour
4 skinless boneless chicken breast halves (2 lb total)
2 tbsp extra-virgin olive oil
1/2 cup plus 2 tbsp dry Marsala wine
2/3 cup heavy cream
1 tsp fresh lemon juice


Directions:
Put oven rack in middle postition and preheat oven to 200F.
Bring broth to a boil in a 2-quart saucepan over high heat, then boil, uncovered, until reduced to about 3/4 cup, about 20 minutes.
Cook shallot in 3 tablespoons butter in an 8-10″ heavy skillet over moderate heat, stirring, until shallot begins to turn golden, about 1 minute. Add mushrooms, 1 teaspoon sage, salt and pepper and cook, stirring occasionally, until liquid mushrooms give off is evaporated and mushrooms begin to brown, 6 to 8 minutes. Remove from heat.
Put flour in a wide shallow bowl. Gently pound chicken to 1/4″ thick between 2 sheets of plastic wrap using the flat side of a meat pounder or a rolling pin.
Pat chicken dry and season with salt and pepper, then dredge in flour, 1 piece at a time, shaking off excess. Transfer to sheets of wax paper, arranging chicken in 1 layer.
Heat 1 tablespoon each of oil and butter in a 10″ heavy skillet over moderately high heat until foam subsides, then saute half of the chicken, turning over once, until golden and just cooked through, about 4 minutes total. Transfer cooked chicken to a large heatproof platter, arranging in 1 layer, then put platter in oven to keep warm. Wipe out skillet with paper towels and cook remaining chicken in same manner, then transfer to oven, arranging in 1 layer.
Add 1/2 cup wine to skillet and boil over high heat, stirring and scraping up brown bits, about 30 seconds. Add reduced broth, cream, and mushrooms, then simmer, stirring occasionally, until sauce is slightly thickened, 6 to 8 minutes. Add lemon juice and remaining 2 tablespoons wine and 1/2 teaspoon sage.
Serve chicken with sauce.