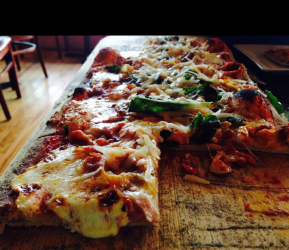 "Best Pizza on Long Beach"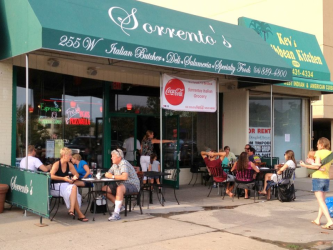 What I love about living in Rockville Centre is our close proximity to Long Beach! Having the summers off is a blessing, and exploring Long Island is a daily event. There's nothing better than putting the bike rack on the car for the season and heading down to the  Long Beach Boardwalk.
For those of you that haven't had the experience, I totally URGE you to ride the boardwalk and then hit Sorrento's Italian Kitchen at 255 West Park Avenue. This originally opened as an Italian specialty store and deli, but has become famous for its pizza! Believe it or not, this pizzeria also has a bakery and butcher/deli. You can pick out a steak and have it roasted in the pizza oven!
When we went we knew that there is a standard 30 minute wait for a pie, and we also knew it is a BYOB establishment. We ordered a fabulous meat platter from the deli counter – fresh prosciutto, sopressata, salami, reggiano parmigiana, mixed olives, and mozzarella! Not such a shabby way to pass thirty minutes. When the pie came out it was delivered on an enormous platter and even though we have been here before, we forgot just how large the portions truly are! It is served with grated cheese on top and the aroma from the fresh basil, olive oil, etc is intoxicating. The only downer? You leave so satisfied it is hard to get back on your bicycle and pedal!