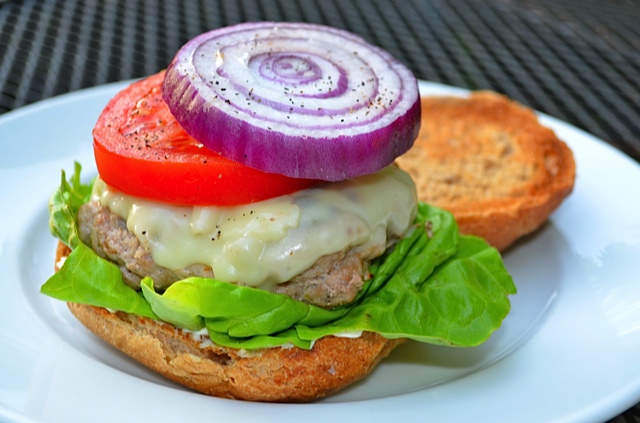 prepared by and photo by Emily S. Downs

So simple, so easy, so healthy, so awesome.

Size:

serves 4



Ingredients:
1 1/4 lbs ground turkey
1 tbsp Dijon mustard
1 1/2 tbsp Worcestershire sauce
1 garlic cloves, minced
1 small onion, minced
1/2 tps salt
1/4 tsp black pepper
4 slices Monterey jack cheese
4 whole wheat rolls, split and toasted
GARNISH: lettuce leaves, tomato slices, onion slices, mayo...



Directions:




Prepare the grill according to the manufacturer's instructions.  Spray the grill with nonstick cooking spray.

In a medium bowl, mix together the turkey, mustard, Worcestershire sauce, garlic, onion, salt, and pepper just until combined.  Form into 4 patties.

Grill the patties for 8 to 9 minutes, turning once, or until they are firm and cooked through.  Lay a piece of cheese on each burger (if using stovetop grill, cover the burgers loosely with heavy-duty foil).  Grill for about 30 seconds, or until the cheese is melted.

If using mayonnaise, lightly spread on top and bottom roll.  Place each burger on a roll bottom and serve with lettuce, tomato, and onion, if using.