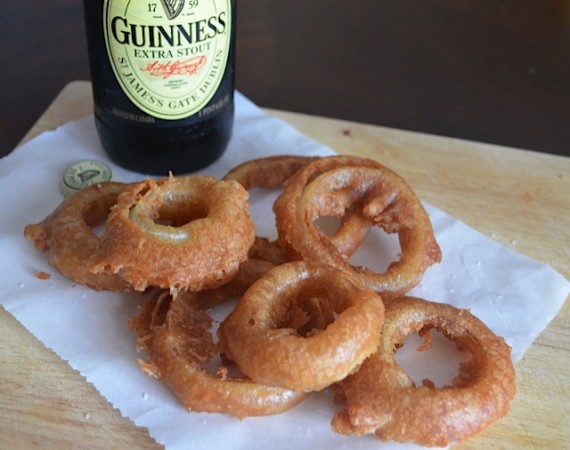 prepared by and photo by Emily Doscher

I don't make onion rings too often… but this recipe is my go-to for now on.  Crispy, and full of flavor. The way an onion ring should be!

Size:

serves 6-8



Ingredients:
4-6 cups canola oil, for frying
2 large onions
2 cups all-purpose flour
1/2 cup cornstarch
1 tbsp baking powder
1/2 tbsp pimenton or hot paprika
1 (14.9 oz) can of Guinness
2 tbsp dijon mustard
1 tsp honey
Kosher salt



Directions:




Fill pot with oil 1 1/2″ deep. Heat oil over medium-high to 375F. Prepare a baking sheet lined with paper towels and a wire rack for finished onion rings to drain. While oil is heating , trim ends from onions, peel, and cut crosswise into 1/2″ thick rings. Gently separate rings, discarding innermost rings and broken pieces.

In a large bowl, whisk flour, cornstarch, baking powder, and pimenton. In a small bowl, whisk together beer, mustard and honey. Add wet ingredients to dry, stirring well to combine. Dip onion rings into batter a few at a time, turning to coat thoroughly. Shake off excess batter an carefully lower into hot oil. Cook until dark golden brown on each side, 2-4 minutes, turning halfway through. Remove with a wire strainer to prepared wire rack, sprinkle lightly with salt while hot.

Continue to fry onion rings, pausing in between batches to allow oil to return to 375F. Serve immediately.
Allow oil to cool completely before straining and storing.