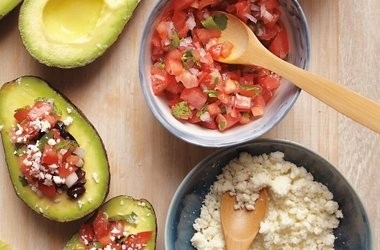 marthastewart.com

Avocados are nature's perfect little bowl.  Leave it to the staff at Martha to come up with filling them with taco fixins'. These are just their suggested ingreds… feel free to place out whatever you'd like and pile it on high! Avocados are a good source of fiber, potassium, vitamins C, K, folate, and B6.  They also contain heart-healthy unsaturated fat.

Size:

serves 6-8



Ingredients:
1 can (15.5 oz) black beans, drained and rinsed
2 tbsp safflower oil
1 tsp minced garlic (from 1 garlic clove)
1/4 tsp ground cumin
Coarse salt
1 large tomato, diced (1 1/2 cups)
1/4 cup roughly chopped fresh cilantro leaves
1/4 cup diced red onion
4 limes
1/2 cup Cotija* cheese, crumbled (or crumbled Feta)
4 avocados, chilled



Directions:




Place beans in a bowl.  Heat oil in a small saute pan over medium heat.  Add garlic and cumin, and saute until fragrant, about 1 minute.  Pour oil over beans, and stir to coat; season with salt.  Transfer to a serving bowl.

Stir together tomato, cilantro, onion, and juice of 1 lime.  Season salsa with salt, and transfer to a serving bowl.  Place cheese in a small serving bowl.

Just before serving, cut avocados in half, remove pits, and squeeze remaining limes over flesh.  Season with salt, and arrange on a platter.  Serve with beans, salsa, and cheese, as you would for traditional tacos.