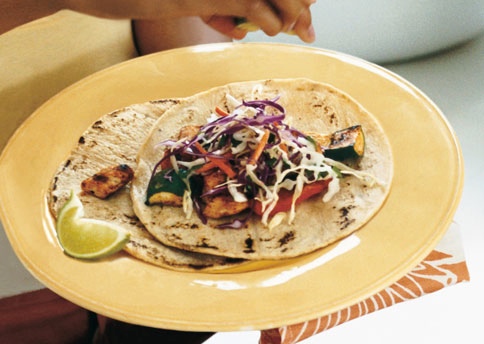 bonappetit.com

Throwing a party? Serve tacos. I've said it before and I'll say it again… taco bars give your guests the freedom to use the ingredients they want to personalize their… well… taco. The Cilantro Slaw gives them crunch and the spicy rub gives them a kick.

Size:

6 servings



Ingredients:
TACOS:
1 1/2 cups sour cream
1 tbsp chopped canned chiptle chiles (about 2) (in International food section of most supermarkets)
2 tbsp (packed) golden brown sugar
1 tbsp smoked hot Spanish paprika (Pimento de la Vera - in Spice section or International food section)
2 1/4 tsp chili powder
1 1/2 tsp coarse kosher salt
1 1/2 tsp garlic powder
1 1/2 tsp onion powder
2 small zucchini, quartered lengthwise
1 red bell pepper, seeded, cut lengthwise into 3/4" thick strips
2 tbsp canola oil
1 lb skinless boneless chicken breast halves, each halved horizontally
12 6" diameter corn tortillas, warmed
2 limes, each cut into 6 wedges
CILANTRO SLAW:
12 oz purchased shredded three-color coleslaw mix (about 7 cups)
1 cup coarsely chopped fresh cilantro
3 tbsp canola oil
3 tbsp fresh lime juice
1/2 tsp coarse kosher salt
1/2 tsp ground black pepper



Directions:




TACOS: Prepare barbecue (medium heat). Whisk sour cream and chipotle chiles in small bowl; season with salt. Whisk brown sugar and next 5 ingredients in another small bowl to blend for spice rub.

Place zucchini and bell pepper on rimmed baking sheet. Drizle with canola oil; toss to coat. Sprinkle spice rub over both sides of vegetables and chicken.

Place chicken and vegetables on barbecue. Grill until vegetables are tender and browned in spots and chicken is cooked through, turning occasionally, about 5 minutes. Transfer to work surface; cut chicken crosswise into 1/2″ thick strips. Cut vegetables crosswise into 3/4″ pieces. Place chicken and vegetables in large bowl; toss to blend.

Place chicken and vegetables, chipotle cream, tortillas, slaw, and lime wedges on table. Allow guests to assemble their own soft tacos.

CILANTRO SLAW: Place coleslaw mix and cilantro in large bowl. Whisk canola oil, lime juice, salt, and pepper in medium bowl to blend. Add to cabbage mixture; toss to coat.