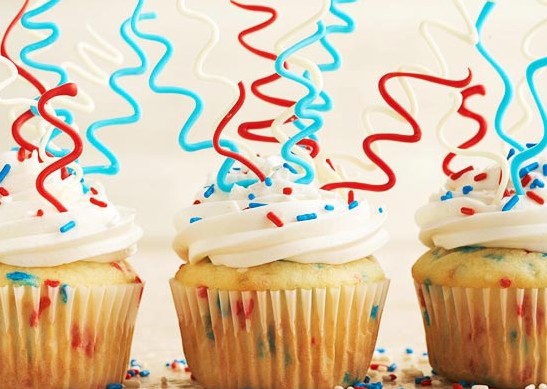 bhg.com

Can you get any more patriotic? If you want to save some time on the cupcakes and icing, go for boxed cake mix and canned icing. They both work fine for this.  After all, it's all about the "fireworks!"  The candy coating discs can be found in the baking section of party stores and several grocery markets.

Size:

makes 12 (2 1/2") cupcakes



Ingredients:
1/2 cup red candy coating disks
1/2 cup blue candy coating disks
1/2 cup white candy coating disks
2 1/2 cups Creamy White Frosting (or canned creamy white frosting works well and quicker)
12 Confetti Cupcakes or other 2 1/2" cupcakes in paper bake cups
Red, white, and blue sprinkles (optional)



Directions:




Place colored candy coating disks in three separate small microwave-safe bowls. Microwave one bowl on high for 30 seconds. Stir; microwave for 20-30 seconds more or until melted. Repeat, one at a time, with the remaining bowls of candy coating. Transfer the melted candy coatings to three small heavy resealable plastic bags. Snip off a small piece from one corner of each bag. On sheets of waxed paper, make 8-9″ long sticks (about 1/4″ thickness) or each color candy coating by piping back and forth over waxed paper in a zigzag pattern. Let stand about 1 hour or until firm. (If necessary, place the sticks of candy coating in the freezer until firm).

Meanwhile, place Creamy White Frosting* (or store-bought canned icing) in a disposable pastry bag fitted with a medium star tip (or just lay it on thick with a spatula…). Pipe frosting over Confetti Cupcakes**.

Break the zigzag sticks of candy coating into 3-4″ lengths. Insert the candy sticks into frosting, radiating out from the center like a sparkler. If desired, sprinkle with colored sprinkles.

Confetti Cupcakes**: (makes 24… recipe only calls for 12)
1 pkg 2-layer-size white cake mix
1  4 serving size pkg instant cheesecake pudding and pie filling mix
1 cup water
3 eggs
1/2 cup sour cream
1/3 cup vegetable oil
1/2 cup red, white, and blue sprinkles

Preheat oven to 350F. Line twenty four 2 1/2″ muffin cups with paper bake cups. In a large mixing bowl combine cake mix, pudding ix, the water, eggs, sour cream, and oil. Beat with an electric mixer on low speed until combined. Beat on medium speed for 2 minutes more, scraping sides of bowl occasionally. Stir in sprinkles. Spoon batter into prepared muffin cups, filling each two-thirds to three-fourths full. Use the back of a spoon to smooth out batter incups. Bake for 20 to 22 minutes or until a wooden toothpick inserted in centers comes out clean. Cool cupcakes in muffin cups on wire racks for 5 miutes. Remove cupcakes from muffin cups. Cool completely on wire racks.

Creamy White Frosting*:
1 cup shortening
1 1/2 tsp vanilla extract
1/2 tsp almond extract
4 cups powdered sugar
3-4 tbsp milk

In a large mixing bowl beat shortening, vanilla, and almond extract with an electric mixer on medium speed for 30 seconds. Gradually add 2 cups of the powdered sugar, beating well. Add 2 tablespoons of the milk. Gradually beat in remaining powdered sugar. Gradually add milk until frosting reaches a spreading consistency. Makes about 3 cups.