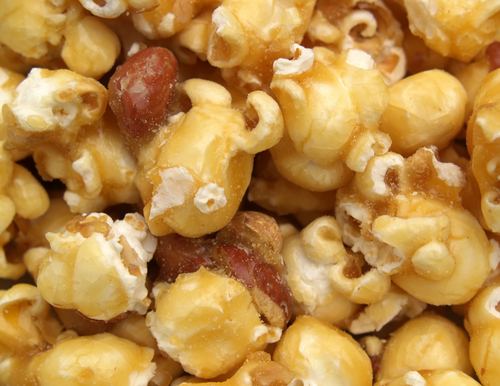 No need to "buy me some Peanuts and Cracker Jacks…". I made a batch of my own! Don't forget to add a little toy prize in the middle of it all!

Size:

serves 10-12



Ingredients:
16 cups freshly-popped popcorn (or, 3... 3.5 oz bags natural, lightly salted microwave popcorn)
2 cups roasted, lightly salted peanuts (Spanish or regular)
1/2 cup (1 stick) unsalted butter
3/4 cup packed brown sugar
1/2 cup light corn syrup
2 tbsp molasses
1/2 tsp salt
1 tsp pure vanilla
1/2 tsp baking soda
Sea salt, to taste



Directions:




Preheat oven to 250F. Transfer the popped corn to a large large stock pot (or divided between 2 large mixing bowls), discarding any un-popped kernels. Add the peanuts and toss to combine.

Melt butter in a heavy saucepan over medium heat. Whisk in brown sugar, corn syrup, molasses, and salt. Increase heat to medium-high and bring to a gentle boil, stirring occasionally, until the temperature reads 250F on a candy thermometer, about 5-8 minutes. Remove from the heat and stir in vanilla and baking soda. Working quickly, pour the hot caramel into the pot and gently toss until the popped corn and nuts are evenly coated. (Using your hands works best… wear gloves if you would like.)

Divide the popcorn mixture in half between 2 greased baking sheets, spreading into a thin, even layer. Bake, stirring every 15 minutes, for 50 minutes. Sprinkle Cracker Jack with a little sea salt and allow to cool in pans for 20 minutes. Separate the popcorn into individual pieces with your hands before serving. This is best eaten the day it's made but can be stored in an airtight container for up to 3 days.