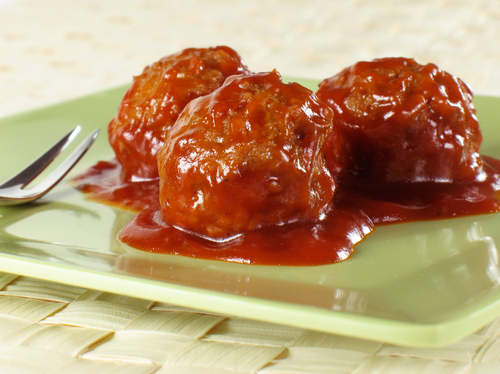 www.foodandwine.com

If you read The Help, then you most likely loved it and felt hungry throughout. Loads of southern dishes were being prepped and written about. Apparently, a Southern tradition was to make little meatballs to serve to the men in attendance (according to Food & Wine Magazine August 2011). Don't worry I won't put the chocolate cake recipe here.

Size:

makes about 4 dozen



Ingredients:
5 slices of packaged white sandwich bread
1 cup milk
3 large eggs, beaten
1 small white onion, minced
1 tbsp salt
2 tsp sweet paprika
1 tsp dry mustard
1/2 tsp freshly ground black pepper
1/2 tsp ground mace
2 lbs lean ground beef
Vegetable oil, for brushing
1 cup ketchup
1/2 cup currant jelly
1/2 cup dry sherry
1 tbsp Worcestershire sauce



Directions:




Preheat the broiler. In a large bowl, soak the bread in the milk for 1 minute, until softened. Squeeze out the excess milk and return the bread to the bowl. Add the eggs, onion, salt, paprika, dry mustard, pepper and mace and mix until smooth. Add the ground beef and mix until evenly combined.

Brush a large rimmed baking sheet with oil. Using a 2 tablespoon-size ice cream scoop, form the meat into 1 1/2″ balls; roll until smooth. Transfer the meatballs to the baking sheet and brush the tops with oil. Broil 10″ from the heat for about 10 minutes, shifting the sheet occasionally, until the meatballs are sizzling and browned.

Meanwhile, in a large, deep skillet, combine the ketchup, jelly, sherry and Worcestershire. Add 1/2 cup of water and bring to a simmer, whisking until the jelly is melted.

Using a slotted spoon, add the meatballs to the sauce and simmer over low heat until thickly glaze, about 15 minutes. Transfer the meatballs to a bowl and serve with picks.