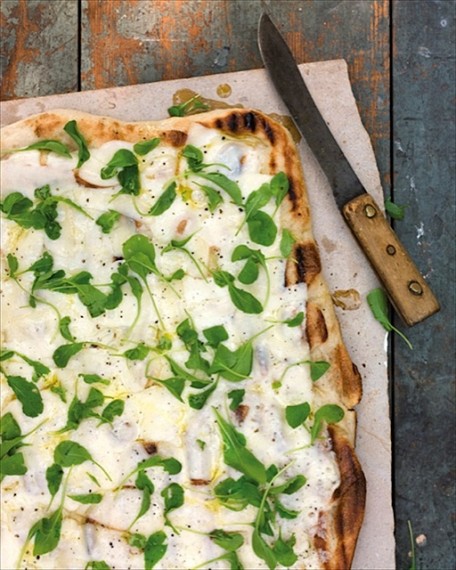 marthastewart.com

If you know me, then you know I love pizza. Like… I'm crazy about it. To me, this is just another form of it without the sauce. Cheese, grilled dough and arugula equal delish!

Size:

serves 4



Ingredients:
2 tbsp extra-virgin olive oil, plus more for drizzling
2 lbs store-bought pizza dough (thawed if frozen)
1/2 lb to 1 lb fontina cheese, thinly sliced or grated
Sea salt and freshly ground pepper
1/2 cup baby arugula



Directions:




Preheat grill to medium. Brush a rimmed baking sheet with 1 tablespoon oil. Using your hands, stretch dough into a 10 by 12″ rectangle on baking sheet. Lightly brush top of dough with remaining tablespoon oil. Fold in half.

Gently transfer dough to grill, and unfold to lay flat. Cover, and grill until underside is golden brown, 3 to 4 minutes. Using a pizza peel or wide spatula, flip crust. Top with cheese. Cover, and grill until bottom of pizza is golden brown and cheese melts, 3 to 4 minutes more.

Transfer to a cutting board, Season with salt and pepper. Top with arugula, and drizzle with oil. Cut into squares.