Monmouth Regional High School Drama Club presents "Songs for a New World." 
November 19 – 21 at 7pm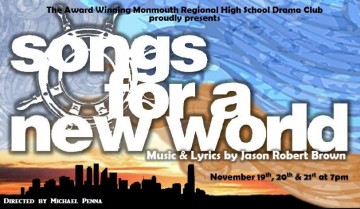 "Songs For A New World" is a contemporary song cycle that weaves characters and history together, illuminating the timelessness of self discovery with music & lyrics by Jason Robert Brown
It's about one moment. It's about hitting the wall and having to make a choice, or take a stand, or turn around and go back. These are the stories and characters of today, the Songs For A New World. The first musical from TONY Award winner Jason Robert Brown (Parade, Bridges Of Madison County), this moving collection of powerful songs examines life, love and the choices we make.
Brown transports his audience from the deck of a 1492 Spanish sailing ship to a ledge 57 stories above Fifth Avenue to meet a startling array of characters ranging from a young man who has determined that basket-ball is his ticket out of the ghetto to a woman whose dream of marrying rich nabs her the man of her dreams and a soulless marriage.
CAST: Khali Brewer, Madison Fruchter, Kara Pizzolo, Emma Risley, Noel Tyminski, Mackenzie Uplinger, Connor DiBella, Regene Odon, Kennard Johnston and Christian Romer.
Tickets are only $5 for students and $10 for adults.
Monmouth Regional Performing Arts Center
One Norman J. Field Way, Tinton Falls NJ 07724
For more information visit: www.monmouthregional.net