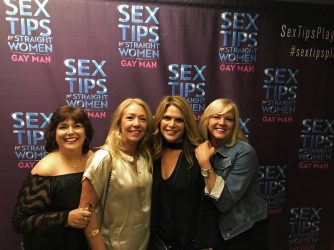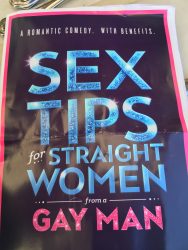 Having been blessed to share the exact birthday with two of my dearest friends, the weekend was a never-ending celebration. There were four of us and we laughed our asses off for 36 hours straight. Thanks to Mary for finding the BEST off Broadway Show EVER for us to see. Sex Tips For Straight Women from A Gay Man is playing in Vegas and here in New York City.
It may not have been educational to us old ladies, but it certainly was entertaining. The theater was intimate (I counted maybe 100 seats max) and it was an interactive experience. We giggled and guffawed at the off color humor as we sipped on Veuve Clicquot in our seats.
The entire show was comprised of three actors, and each of them did a stellar job. Anita Gates reviewed this show for The New York Times and said "This is a polished production, with a personable, attractive, endearing, talented cast." Jason Michael Snow plays Dan, an author and sex adviser. ("Sex Tips" is based on the book of the same name.) Lindsay Nicole Chambers is Robyn, a community college professor who has been assigned to moderate a book discussion with Dan but clearly needs his guidance herself. Andrew Brewer is Stefan, supposedly the college program's sound and lighting technician but mostly an object of desire. He closes the show with a striptease, starting in an astronaut suit."
I will admit that the audience was 95% women – and young women at that – most of them wore "Future Bride" sashes and birthday girl tiaras – but I think my guy would have been laughing along side of me (if he was invited.) If you have the chance to visit the Big Apple, then make sure to grab a gaggle of girlfriends and see Sex Tips. You will definitely give those Poise pads a workout. HAHA, kidding – I think that is in the not so distant future.