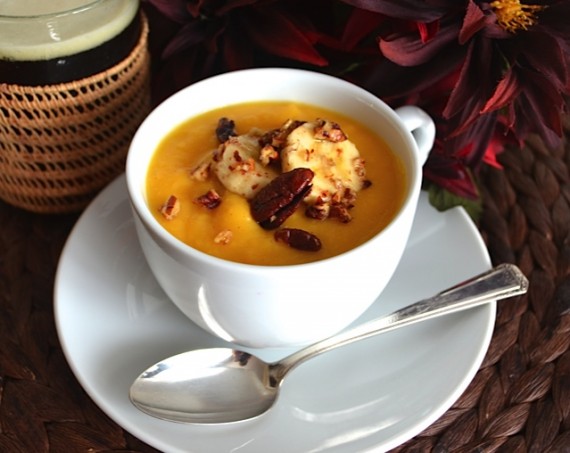 prepared by and photo by Emily S. Downs

Stumbled upon this beautiful soup in a  Food and Wine 2009 issue. Found it to be very thick the first time I made it. So second time around, I added another cup of water. This definitely helped thin it out, but I also found it needed more cinnamon and salt than the original recipe. Make sure to load it up with the banana-nut mixture. The soup would be nothing without it. So good.

Size:

4-6 servings



Ingredients:
1 (2 lb) butternut squash, halved lengthwise & seeded
Kosher salt
1/2 cup pecans
1 banana, sliced 1/2" thick
1 tbsp pure maple syrup
1-2 cups water
1/2 cup crème fraiche
1/4-1/2 tsp of ground cinnamon (depends on your preference)
Salt to taste



Directions:




Preheat the oven to 375F. Butter a medium baking dish. Season the squash with salt and set it cut side down in the baking dish. Bake for about 1 hour and 10 minutes, until the squash is very tender. Let cool slightly.

Meanwhile, spread the pecans in a pie plate and toast until fragrant. Let cool, then coarsely chop and transfer to a medium bowl. Add the banana and maple syrup and stir to coat.

Peel the squash. In a food processor or blender, puree the squash, 1 cup of water, crème fraîche and cinnamon until very smooth (add more water as I find it is very thick). Add salt as desired. Transfer to a medium saucepan and warm over low heat. Ladle the soup into bowls, garnish with the banana-nut topping. Serve hot or at room temperature.