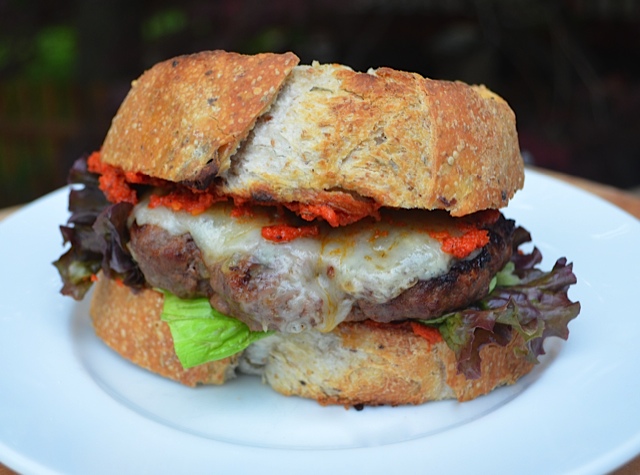 prepared by and photo by Emily S. Downs

If you don't know this already, I love burgers. While this version seems rather exotic, it's easy to prep. The ingredients are either already in your pantry or you can find at local grocers. The olive bread completes the combo, but any roll/bun in the long run works. Found this recipe on the foodnetwork.com. Big flavor with out too much effort.

Size:

4 servings



Ingredients:
4 tbsp extra-virgin olive oil, plus more for brushing
9 slices olive bread, lightly toasted (King's, Fairway, Whole Foods)
2 cloves garlic, crushed
1/4 cup sliced almonds
1/2 cup chopped jarred roasted red peppers
1 tbsp sherry vinegar or red wine vinegar
1 tsp smoked paprika
Kosher salt
1 1/2 lbs ground lamb or beef chuck (I use beef 80/20 fat)
2 shallots, finely grated (about 1/4 cup)
4 slices manchego cheese
Lettuce leaves, for serving



Directions:




Heat 2 tablespoons olive oil in a skillet over medium heat. Remove the crust from 1 slice and tear the bread into 1″ pieces. Add to the skillet along with the garlic and cook until golden brown, about 2 minutes. Add the almonds and cook until golden, about 3 minutes (I remove crushed garlic at this point, but not necessary. If you love garlic). Transfer to a mini food processor or blender along with the roasted peppers, vinegar, the remaining 2 tablespoons olive oil, 1/2 teaspoon paprika and 1/4 teaspoon last. Pulse until slightly chunky.

Gently mix the ground meat, shallots, 1 teaspoon salt and the remaining 1/2 teaspoon paprika in a bowl with your hands until just combined. Form into 4  1″ thick patties.

*Heat a large nonstick skillet over medium-high heat. Brush with olive oil, then add the patties cook until browned on the bottom, 4 to 5 minutes. Flip and top the patties with cheese; cook 4 to 5 more minutes. Spread the roasted pepper sauce on the remaining 8 slices bread. Serve the burgers on the bread with lettuce.

*I prefer to grill my burgers… I spray the grill with olive oil and cook the patties to desired doneness.