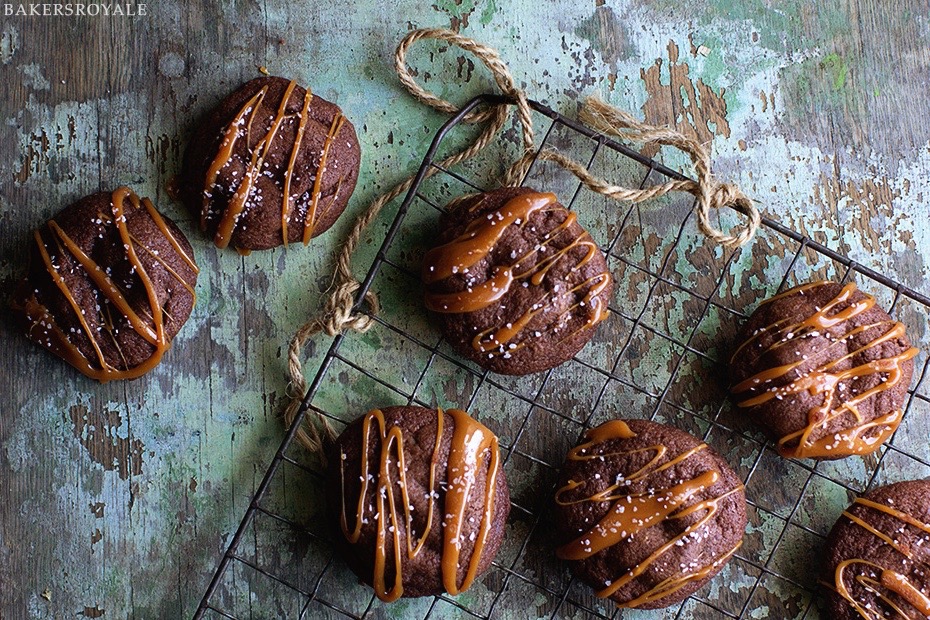 photo creds: bakersroyale.com

Delicious, sweet, yet salty, chewy and irresistible. Photo is by bakersroyale.com but the original recipe was found on bhg.com. This was something that had to be shared. It's got a bit of everything.

Size:

makes about 3 dozen



Ingredients:
2 3/4 cups all-purpose flour
3/4 cup unsweetened cocoa powder
1 tsp baking soda
1/4 tsp salt
1 cup unsalted butter, softened
1 cup granulated sugar
1 cup packed light-brown sugar
2 eggs
2 tsp vanilla
36 milk chocolate-covered round caramels
12 vanilla caramels, unwrapped
1 tbsp whipping cream, half-and-half, or light cream
Coarse salt (I like to use flake salt)



Directions:




In a medium bowl stir together flour, cocoa powder, baking soda, and salt; set aside.

In a large bowl beat butter with an electric mixer on medium to high speed for 30 seconds. Add granulated and brown sugar. Beat until combined, scraping sides of bowl occasionally. Beat in eggs and vanilla until combined. Beat in as much of the flour mixture as you can with the mixer. Stir in any remaining flour mixture. If necessary, cover and chill for 1 hour or until dough is easy to handle.

Preheat oven to 375 degrees F. Shape dough into 1 1/2-inch balls. Press a chocolate-covered caramel into each ball and shape dough around caramel to enclose. Place cookies 2 inches apart on an ungreased cookie sheet.

Bake in the preheated oven for 8 to 10 minutes or until edges are firm. Transfer cookies to a wire rack; cool completely.

To decorate, in a small saucepan combine vanilla caramels and whipping cream. Heat over medium-low heat until caramels melt and mixture is smooth. Drizzle melted caramel mixture over cookies and then sprinkle cookies with coarse salt. Let stand until set.

Layer undecorated cookies between sheets of waxed paper in an airtight container; cover. Store at room temperature for up to 3 days or freeze for up to 3 months. To serve, thaw cookies, if frozen. Frost and top cookies as directed.