Amusing little ones during restaurant meals used to be a tall order. Not anymore. Check out these popular spots, where music, art and fun are complimentary side orders.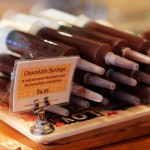 Max Brenner with locations in NYC and a new Chocolate Bar in Paramus, NJ is a kid-friendly spot to bring kids for entertainment and the chocolate concoctions on the menu. Who doesn't like their own personal blue-flamed sterno to roast marshmallows, the interaction with your dessert, the syringe filled with chocolate, their hot chocolate mug that has no handle and the spinning vat of chocolate by the entrance.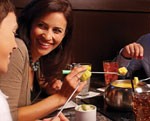 The Melting Pot with locations (including Westwood, NJ) holds a Family Sunday Brunch from 12pm until 3:30pm every Sunday. The three course Adult meal includes a freshly prepared salad, an entree of Filet Mignon, Breast of Chicken and White Shrimp and a portion of our world famous chocolate fondue all for only $27.95. For the kids they have a kids fondue entree and a portion of chocolate for just $16.95.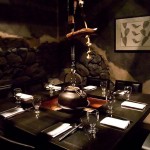 Ninja New York is a theatrical experience, and it starts from the moment you walk in the door. The waiters are all "trained ninjas" and perform magic tricks and interact with you throughout the evening. Ninja is not a children's restaurant, but it is very kid-friendly. Ninja New York 25 Hudson Street, NYC.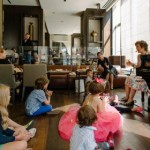 Langham Place is where Broadway wanna-bes can start off their Sunday at Tunes with Tina, an interactive musical prix-fixe brunch in midtown. Tina deVaron, a jazz pianist who spent six years entertaining kids at the Carlyle Hotel's Tea with Madeline, sings songs from Disney and current pop artists; she also takes requests from the audience. Langham Place 400 Fifth Avenue, NYC.